Bitcoin Price Just Passed a Key Metric for First Time Since December 2017
The cryptocurrency is rising.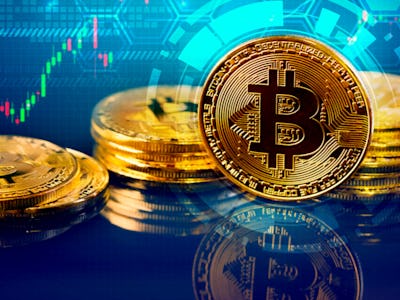 Flickr / CreditRepairExpert
Bitcoin's price is booming. The world's largest cryptocurrency by the measure of market cap has jumped in value this month, pushing past the $12,500 mark and sparking discussions about beating its all-time high. On Wednesday, amid this surge, bitcoin's market dominance reached a level not seen since its previous highs.
At the time of writing, CoinMarketCap shows that bitcoin accounts for 61.5 percent of the total cryptocurrency market value. The last time bitcoin surpassed that figure was on December 11, 2017. Six days after that December peak, bitcoin reached an all-time high of $20,089.
Percentage-wise, bitcoin's new market dominance has come at the expense of "altcoins," which saw their share of the market drop.
That does not mean that "altcoins" are dropping in value, but that bitcoin is rising at a faster speed than its competitors. 
Since the start of this month, bitcoin's dominance has risen six percentage points. In that same time, the market as a whole has risen around $90 billion in value to reach $362 billion. But even with bitcoin taken out of the equation, the total value of non-bitcoin coins rose around $15 billion over the same period.
Nonetheless, the surge in bitcoin versus the others has prompted investors to take action. One trader, known on Twitter as "Anondran," stated Tuesday that they "can't take this anymore. Bitcoin is decimating my Altcoin bags," declaring they are "selling all my Alts to BTC before they drop another 50 percent…."
Bitcoin Price: Why the Cryptocurrency is Surging
Bitcoin's sudden rise is relatively surprising, considering the state of the market earlier this year. As recently as February, the price of one bitcoin fell to just $3,400.
One theory put forward is that Facebook's Libra launch earlier this month has renewed interest. The coin is set to launch in the first half of 2020, and uses a basket of assets to maintain a more stable price to make international transfers simpler.
"The latest rally appears to be tied to the launch of Facebook's Libra coin and the publicity it has received," Craig Erlam, senior market analyst at Oanda, told Inverse on Tuesday. "Whether people see this as legitimizing cryptocurrencies — being tied to Facebook — or the size of the rally has attracted people seeking quick profits, like back in 2017, isn't important but it's clearly helped it find its groove again."
The renewed publicity in cryptocurrency as a technology may be encouraging investors to buy into the world's largest coin.
Bitcoin Price: What About the Altcoins?
Alternatives like Libra, Ethereum and Litecoin tout improvements over the original bitcoin design. In the aftermath of bitcoin's December 2017 surge, alternatives like Ripple suddenly jumped in price. The total cryptocurrency market cap reached an all-time high in early January, weeks after bitcoin had slumped from its all-time high.
Could "altcoins" see another rise? One analyst, who goes by "Livercoin" on Twitter, notes that "altcoins" have followed a similar pattern before. In February 2017, after the coin passed its previous 2013 all-time high, Litecoin jumped by 700 percent, Ethereum by over 1,000 percent, and Ripple by 5,300 percent.
Bitcoin Price: How the Halvening Could Influence This Shift
"Livercoin" notes that these jumps are focused around bitcoin's "halvening." That's when the network halves the amount of reward given to each miner for running the network. The reward is meant to be an incentive for users to maintain the network, and ensures bitcoin remains a decentralized cryptocurrency outside of control from any one party.
The last halvening was in July 2016. The next halvening is expected to take place on May 21, 2020. It's hard to say for sure when it will happen as it halves every 210,000 blocks.
The reason for the halvening is to ensure the network can continue creating new tokens at a regular rate and reward miners, while also prolonging the life of the bitcoins to come. Bitcoin is capped to only ever produce 21 million coins, and at the time of writing 85 percent of the total bitcoins ever produced have already been mined. A halving could increase the demand for existing coins, as the number of new coins entering the network shrinks.
Where the price goes from here is anyone's guess. John McAfee has maintained his prediction that it will reach $1 million next year, but Erlam noted that it could easily slump to the four digits again.
The author of this story has a stake in bitcoin and Ethereum.