The Best Sneakers for Standing All Day
We found the best sneakers for standing all day when you can't really wear sneakers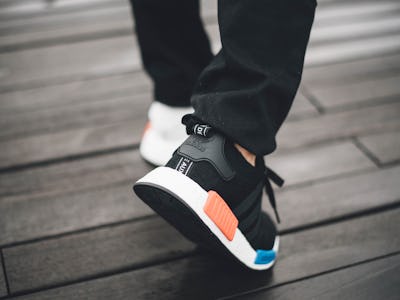 Unsplash / chuttersnap
When some people dress for work, they have to look like they are at work — professional. You need that. But you also have to stand all day. And, for that, you can't wear just any pair of slip-on shoes or loafers. And dress shoes are right out.
You need support. You need something that takes care of your feet while you focus on what you showed up to do. You need comfortable sneakers that look like a dress shoe.
That's a tall order for a pair of shoes. So we did the shopping and found five pairs that will get you through the longest shift, the most brutal work day, and keep you from suffering. But you will also look good while you work.
Ecco is a brand that is legend for comfort. And this pair of leather sneakers walks a fine line between dressy and comfort. It hits the sweet spot for work where you can't look like you are headed to the gym but you also need to be able to stand for long periods move and around without gimping.
This is almost a hybrid between a dress shoe and sneaker and it comes black or brown — just like a dress shoe.
If you are struggling to find a shoe that walks the line between casual and athletic, consider this pair of Allbirds.
It is casual shoe. But it's the brand of casual that is more Silicon Valley, entrepreneur style than slacker. And that makes them acceptable footwear for most jobs.
They are crafted from a textile that Allbirds engineered with ethically sourced Eucalyptus tree pulp. But they are also designed for extreme comfort. They not only offer excellent support but are light and airy so your feet can breathe and recover from the work moments that feel like a sprint.
If you can get away with a shoe that looks almost like a running shoe, consider this pair of adidas. It has memory foam insoles. Yum. Your feet will love this. They are super comfy. The fabric texture gives them an office-friendly look, too. So you can probably get away with it anyplace where the vibe isn't too buttoned down.
They are available in several colors so you could buy a couple of pairs and switch them out to keep them cleaner and your feet fresher.
Olukai designs their shoes after the lifestyle on Hawaii. And the Nohea captures that casual vibe while offering a shoe that converts into something you can step into or put on like a sneaker. The heel drops down and out of the way if you need to slide into these quickly. And, for some jobs, that might be very handy.
They have a gel insole. And they look awesome. So no one will suspect you are wearing sneakers.
If you stay away from the wild or bright colors, (unless your work as a Rodeo Clown, in which case consider the pink/blue neon) this Nike Flyknit Running Shoe would probably be acceptable footwear in any workplace that isn't too formal. And you will be comfy enough in these to run to work, work all day, and run home.
The breathable knit upper will keep you cool. And the Nike running shoe support will keep you from feeling the miles.