'Game of Thrones' Season 8 Spoilers and What's After 'Avengers: Endgame' 
We also talk Critical Role's 'The Legend of Vox Machina' and the bizarre new 'Sonic the Hedgehog' trailer in our latest Multiverse newsletter.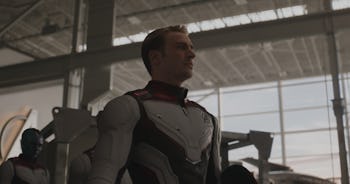 Marvel Entertainment
Heads up, we're talking SPOILERS for Avengers: Endgame and Game of Thrones … Sonic the Hedgehog is going fast to the big screen … and what's next for Disney+?
I'm Eric Francisco, senior entertainment staff writer at Inverse, and this is Multiverse, your twice-weekly guide to news in the geek galaxy.
This is an adapted version of our Multiverse newsletter, a twice-weekly digest of our essential stories from the geek galaxy. Sign up for free here.
The End of Spoilers
Did you see Avengers: Endgame? If you haven't, be warned; we're talking spoilers.
First and foremost, going into Phase 4, the Avengers will officially not be the same. Inverse's Jake Kleinman breaks down what happened to the six original Avengers in Avengers: Endgame while I explore what the film means for Scarlett Johansson's upcoming Black Widow movie, which is expected to begin principal photography this summer. I also recount all the ways that Captain America is worthy of lifting Thor's hammer, Mjölnir.
My colleague Corey Plante explains how the MCU could still have Tony Stark in future movies despite, well, you know what happened…
But what about the other Marvel heroes? Thor's transition from Avenger to Guardian of the Galaxy could mean a lot of things for Guardians of the Galaxy, Vol. 3. Originally scheduled for 2020, the film won't begin production until writer/director James Gunn completes work on the Suicide Squad sequel, The Suicide Squad.
What's Next: With the Avengers' journey complete, it's now time to look ahead. Spider-Man: Far From Home will swing into theaters on July 5.
What do you think? What will the future of the MCU look like? Let us know in an email to eric@inverse.com, and we'll run the best response in the Thursday edition of the Multiverse.
Read More About Avengers: Endgame:
Arya Stark, Winterfell MVP
More spoilers ahead! On Sunday, HBO's Game of Thrones staged the Battle of Winterfell. It was one of the biggest filmed battles ever on either film or television (if you could see it). Who lived? Who died? We filed our damage report immediately after the episode's premiere. Read it right here.
All hail Arya Stark. How badass is Arya? Girl got laid and killed the Night King in one night. (Me, I'm lucky to jog around the block without getting winded.) It's been a long, long journey for Arya, but there may be more to the young Stark yet. Could she be the Prince That Was Promised? And will she kill Cersei?
Next Week on Game of Thrones
With the dust settled, it's time to look ahead to what's next in store for Westeros. Civil war is brewing, and it may pit the remnants of Jon and Daenerys' armies against iconic villain Cersei Lannister and her crown. While the Dothraki horde were wiped out in one fell swoop and most of Snow's forces annihilated, the good guys still have a few weapons to their name. Ghost is still alive, as are both of Dany's dragons. It seems we're in for one more song of ice and fire. Read more.
Disney+ After Endgame
It's the end of one era but the beginning of another. Exact details of Marvel's "Phase 4" have yet to be unveiled, but we do know that a handful of our familiar favorites will return on Disney+ in their own shows.
Elizabeth Olsen and Paul Bettany will reprise their roles as "Wanda" and "Vision" in (wait for it) WandaVision while Anthony Mackie ("Sam Wilson") and Sebastian Stan ("Bucky Barnes") will be back in Falcon and Winter Soldier. Jeremy Renner will nock arrows in Hawkeye, and Tom Hiddleston isn't finished yet, as the actor will play Loki in Loki. Read more.
Natural 20 on Kickstarter
It's not a billion like Marvel made with Avengers: Endgame, but the voice actors behind the popular livestream Dungeons & Dragons group Critical Role talked to Inverse about their wildly successful Kickstarter campaign. With $11 million raised, the highest a film/TV project has ever made on the platform, production now begins on The Legend of Vox Machina.
"We've already started to have some preliminary creative meetings just to introduce ourselves to staff that will be working on the show," said CEO and "Grog" actor Travis Willingham. "We get started on this thing right away." Read more.
WTF Sonic?
Gotta go f — OH MY GOD! What happened to you, Sonic?! Sega's true blue mascot and rival to Nintendo's Mario is getting his own movie in Sonic the Hedgehog, with Ben Schwartz (Parks and Recreation) voicing the speedy hedgehog. The trailer is bonkers, but maybe not bonkers enough. Those who remember how trippy the original games on Sega's consoles were may be underwhelmed by the film's bland "real world" setting in which Sonic teams up with a rookie cop to take down Dr. Robotnik, played by Jim Carrey. It's as if the '90s never ended. Read more.
What's Next
On Wednesday, the first issue of Batman/Teenage Mutant Ninja Turtles III hits comic book shelves. (Yes, there is a third crossover between Batman and the Ninja Turtles. And, yes, they're all great.) Also that day, Netflix adds a ton of millennial classic films to its service, including Casper (1995), Fear and Loathing in Las Vegas (1998), and the entire Matrix trilogy (but not including The Animatrix, which, frankly, is a shame).
If you're not going back to the theaters to rewatch Avengers: Endgame or firing up HBO GO for Game of Thrones, you can see Seth Rogen try to date Charlize Theron in Long Shot this Friday. If you prefer to stay home, you can watch Zac Efron be "Hot Ted Bundy" in Netflix's Extremely Wicked, Shockingly Evil and Vile.