'Avengers: Endgame' Sets Up a Bold New 'Guardians of the Galaxy Vol 3' Plot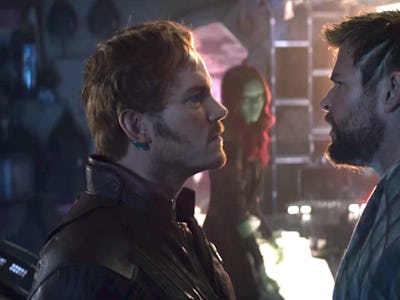 Marvel
The Marvel Universe has been reassembled, but not everything is back to the way it was. As Marvel enters "Phase 4," or whatever it intends to call the future of its cinematic franchise, one group of heroes looks mighty different than when we first met them so many years ago. Here's how Avengers: Endgame can, and will, potentially influence the direction of Guardians of the Galaxy Vol. 3.
And, of course, spoilers for Avengers: Endgame below.
A New Team
Let's get the obvious out of the way. The Guardians of the Galaxy have a different roster than when we first saw them group up in 2014. Star-Lord (Chris Pratt) is still the captain aboard the Benatar, but now he has a new rival within his own ranks: Thor (Chris Hemsworth).
Another new member is Nebula (Karen Gillan), the daughter of Thanos, who finished arguably one of the most compelling single character arcs in all of the Marvel franchise in Avengers: Endgame.
In exchange for Nebula, the Guardians have lost her sister, Gamora (Zoe Saldana). While Gamora was killed by Thanos in Avengers: Infinity War, her 2014 self rebelled and joined Nebula with the rest of the Avengers in defeating Thanos' forces. While this younger Gamora could have joined the team, she ghosted them instead, which may kick off the story we'll see in Vol. 3.
Other returning heroes include Drax (Dave Bautista), Rocket (Bradley Cooper), Mantis (Pom Klementieff), and a maturing Groot (Vin Diesel), ensuring that the Guardians of the Galaxy will still be the goofball A-holes we've come to know and love these last few years even if they're not totally the same.
Thirsty Thor-sday
Naturally, we need to talk about Thor.
Although Hemsworth was prepared to finish his contractual obligations to Marvel in Avengers: Endgame, creative renewal came from working with director Taika Waititi in Thor: Ragnarok. The seemingly last Thor film may have inspired Hemsworth to remain in the MCU for just a little while longer, on the condition Hemsworth gets to keep playing Thor in the way he wants to — as a goofy jock.
Thor: Ragnarok, released in November 2017, rewrote the playbook on superhero trilogies as it surprised audiences with knee-slapping, improvisational comedy despite its function as a climax for Thor (through Asgard's apocalypse!) before his final two Avengers films.
Ragnarok happened because Hemsworth challenged Marvel Studios figurehead Kevin Feige. Despite his prominence with the Avengers, Hemsworth just wasn't feeling the God of Thunder. Instead of sitting back and collecting a paycheck, Hemsworth spoke to Feige about what he wanted to do with Thor and Feige listened.
As Hemsworth told Vanity Fair in 2017, he felt Thor "got watered down a bit" as the sub-franchise "became predictable or overly earnest, self-important, and serious. Nothing was unexpected."
While the two Thor films before Ragnarok — Thor (2011) and Thor: The Dark World (2013) — have their fans, it is widely accepted that the Thor films, which took an expected approach of making Thor an epic fantasy hero, are among the weaker entries compared to others in the Marvel brand.
Some time after Avengers: Age of Ultron, in 2015, Hemsworth famously told Feige in a private meeting, "I feel like I'm dying here … I feel like I have handcuffs on."
An '80s-era SNL performer in the body of an Australian surfer, Chris Hemsworth is a better tonal fit as an oddball Guardian (of the Galaxy) than just another handsome, overpaid Avenger. As Joanna Robinson wrote for Vanity Fair, Hemsworth is "finally playing Thor as he was meant to, not as he was expected to." This is the very meta-lesson that Thor learns from his mother, on the last day of her life, in Avengers: Endgame.
"It's time to be who I am instead of who I'm supposed to be," Thor tells Valkyrie (Tessa Thompson) at the end of Endgame while looking over New Asgard. Thor makes Valkyrie the new king of Asgard, and with a bag over his shoulder, he hops aboard the Benatar with a talking raccoon and a living tree. Thor may have left Asgard, but for the first time in a long time, he's finally home.
How Do You Solve a Problem Like Gamora?
(I actually don't have issue with Gamora. I'm just in a Rodgers and Hammerstein mood.)
Another compelling question regarding the future of the Guardians films is Gamora. Her death in Avengers: Infinity War wasn't undone in Endgame; it's a fixed event that no amount of time travel can correct.
But Gamora lives! Her younger self from 2014 joined the Avengers in the final fight only to vanish into the far reaches of space. Her whereabouts are currently unknown, as the parting scene of the Guardians in Endgame confirms, showing Star-Lord fruitlessly looking for her coordinates.
You can expect the search for Gamora to play some significant role in Guardians of the Galaxy Vol. 3, which has a vague 2020 release date at the earliest. With original writer/director James Gunn firmly reinstated after a hectic summer in 2018, the film will not not only tell the story Gunn intended but retain its unique identity ever since the Guardians first boogied their way into every Marvel fans' heart five years ago. The only difference is that they've got a few new faces along for the ride.
Avengers: Endgame is in theaters now.