Disney+ Release Date, Price, Shows, and How It'll Compete With Netflix
Everything to know about the new streaming service.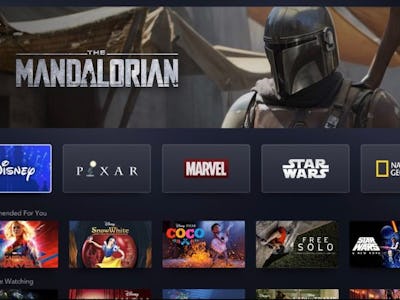 Disney
Disney now fully owns all of 20th Century Fox, and with its brand-new streaming service due out later this year, the House of Mouse might one day soon feel like a total monopoly on the entertainment world. But, at the very least, before long we'll all be able to enjoy watching every movie from Disney, Marvel Studios, Lucasfilm, and Pixar all in one place: Disney+.
Many are heralding Disney's streaming service as a Netflix-killer, and while that remains to be seen, Disney+ is definitely going to shake-up the broader entertainment industry, especially since the company confirmed in March that it would be opening up the infamous "Disney Vault" in its entirety.
Disney+ currently has a landing page where anyone can sign up to receive updates about the service, and since the release date was announced on April 11 during a Disney's Investor Day 2019 Webcast, that website now offers a countdown until the service's release date this fall.
When will Disney+ be released? What does it mean for all our favorite Marvel and Star Wars TV shows and movies? Here's all that info and so much more.
When Is the Disney+ Release Date?
A report from Deadline last year indicated that Disney was aiming for a "fall 2019" release date for Disney+, and on April 11, Disney confirmed that the service would release on November 12, 2019 in North America with international access rolling out over the year.
Based on the official countdown clock, Disney+ should go live at 6 a.m. Eastern on that day.
How Much Will Disney+ Cost?
During a 2017 earnings call, Disney president Bob Iger said, "It will be substantially below Netflix because we'll have substantially less volume."
On April 11, he officially announced an initial price of $6.99 per month or $69.99 per year, which equates to about $5.83 a month instead.
What Platforms Will Disney+ Be Available On?
At launch, Disney+ will be available via apps for tablets and mobile devices, smart TVs, web browsers, and game consoles. So far, deals have been struck with Roku and another with Sony to host the app on the PlayStation 4 — this could be a huge blow to Nintendo and Microsoft if it's not available on the Switch or Xbox One.
What Will Be Available to Stream on Disney+?
In theory, Disney+ will one day be the only place to stream anything and everything from Disney, Pixar, Marvel, Star Wars, and National Geographic — but it won't be so easy in the first year. At launch, the aforementioned cheaper price point will get viewers exclusive access to original movies and shows, while many Disney-owned properties — like the Marvel and Star Wars movies already on Netflix — remain where they are for now.
"The goal in the first year is to generate four to five original movies, and five TV series for the streaming service," a February 2018 Deadline report reads. On April 11, Iger confirmed "10 original films and 25 original series, including three Avengers spinoffs."
During a March 7 annual Disney shareholders meeting, CEO Bob Iger said that Disney+ would be the sole place to stream the many animated films in the infamous Disney Vault, saying "at some point fairly soon after launch it will house the entire Disney motion picture library, so the movies that you speak of that traditionally have been kept in a 'vault' and brought out basically every few years will be on the service."
At the start, Disney+ will still be the exclusive place to stream more than 5,000 hours of Disney-owned original films and TV shows. In other terms, it'll be roughly 7,000 episodes of television and 500 movies — and it will grow very quickly.
What Movies Will Be on Disney+?
At launch, Disney+ will have a substantial backlog of Disney theatrical animated feature films, including all of its "Signature Collection," along with every Pixar film. Many of the older Marvel films not currently streaming anywhere should also, in theory, be on Disney+. Almost all of the Star Wars movies will be there, but Disney promises that all eight episodes will be on the platform by the end of the first year.
One of the biggest selling points for a lot of potential consumers is Disney+ being the home of the MCU. Beginning with Captain Marvel, Disney+ will be the only place to stream every new MCU film (other than buying it directly on services like iTunes, Amazon, or Vudu). That includes Avengers: Endgame but not Spider-Man: Far From Home since Sony Pictures controls distribution on all Spider-Man films.
For the time being, however, newer films like Ant-Man and the Wasp and Avengers: Infinity War will remain on Netflix for 18 months after their initial release on the streaming platform. Thor: Ragnarok, for instance, should theoretically hit Disney+ shortly after the movie leaves Netflix on or around December 6, 2019.
The same rules apply to Star Wars: The Last Jedi, which probably explains why Disney+ won't have all of the Star Wars movies at launch. The Last Jedi won't leave Netflix until just before 2020, more than a month after launch.
Starting with Episode IX, every single Star Wars movie — from Rian Johnson's new trilogy to anything done by the makers of Game of Thrones — will eventually land on Disney+ as the sole place of streaming.
Turner was thought to still have the broadcasting rights to the original six Star Wars films, so it seems like Disney might have made a deal behind the scenes to reacquire them all — or at least a deal that will reclaim them by the end of 2020.
Here are some new movies in the works specifically for Disney+:
Live-action Lady and the Tramp starring Tessa Thompson and Justin Theroux
Live-action Peter Pan adaptation
Live-action The Sword in the Stone adaptation
3 Men and a Baby remake
Father of the Bride remake
Honey, I Shrunk the Kids remake
The Parent Trap remake
A live action movie based on the Timmy Failure books from Spotlight director Tom McCarthy
Stargirl movie, starring Grace VanderWaa
What Shows Will Be on Disney+?
In addition to an undefined backlog of Disney shows, a slew of new programming is coming to Disney+ in its first few months and years. Expect 7,500 episodes from a wide variety of shows.
On Day One, Disney+ will host every episode of The Simpsons ever.
For Marvel, Disney+ will host a series featuring Tom Hiddleston's Loki simply called Loki. There's also a series starring Elizabeth Olsen as Scarlet Witch and Paul Bettany as Vision called WandaVision. Then there's the Falcon-Winter Soldier team-up series dubbed The Falcon and the Winter Soldier. Days before the April 11 announcement, Disney also confirmed a Hawkeye series starring Jeremy Renner.
These many shows will be much more closely integrated with the MCU than the now extinct Marvel Netflix series, which will probably remain with Netflix for now.
In the realm of Star Wars, Disney+ will be home to a currently untitled Rogue One prequel series starring Diego Luna as Cassian Andor. The Mandalorian starring Pedro Pascal as a Boba Fett-type bounty hunter in the years between the original trilogy and the new one, with a gigantic budget to rival Game of Thrones, will be a Day One launch series. There's also a new animated season of The Clone Wars in development.
What else? Gina Rodriguez was hired in late January to serve as executive producer on a series called Diary of a Female President, in which a Cuban-American 12-year-old girl narrates her life years before becoming President of the United States.
Zoë Kravitz is starring in a gender-bent TV adaptation of High Fidelity, in which she plays a record store owner who's obsessed with music and the pop culture surrounding the scene.
And there's even more:
Noelle starring Anna Kendrick and Bill Hader
Togo is an action movie about dog sledding starring Willem Dafoe
A new High School Musical show
New Mighty Ducks
A Monsters, Inc. spin-off series from Pixar
A mysterious new Muppets series apparently also from Pixar
How Will Disney+ Compete With Netflix, Hulu, Amazon, and HBO?
Outside of original content created and owned by specific streaming services, a lot of other shows and movies drift between the various streaming platforms as licenses expire and are purchased. But that won't be the case with Disney+. Their grand plan is to take ownership over the many properties Disney has created over the years.
Which is to say that once Disney finally reacquires all of its shows and movies, they'll never leave Disney+. And as the company creates more and more blockbusters in huge franchises like Star Wars and Marvel, the value of Disney+ is only going to gradually increase. Consumers will begin to realize they'll get more value by going all-in on a streaming service that reliably has the shows and movies they want to see rather than buying Blu-rays or even a cable subscription.
Netflix might've changed the way the industry looks at the TV and film industry, but Disney could stand to really shake things up with Disney+.
Disney+ will launch on November 12, 2019.