Sameness Is Coming: 'Game of Thrones' Creators Helm New 'Star Wars' Movies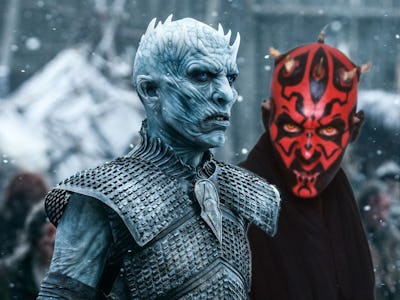 Lucasfilm/HBO
Proving that Star Wars can longer help itself, and like the most popular kid on the playground, must keep up with all the latest fashions, no matter what, Lucasfilm announced today that the showrunners of Game of Thrones, David Benioff and D.B. Weiss, will be in charge of an indeterminate number of new Star Wars films.
On Tuesday, Lucasfilm officially announced that the writing duo, famous for adapting George R.R. Martin's fantasy novels into a mainstream television show filled with incest, rape, violence, and dragons, will bring their imaginations to the galaxy far, far away. Bizarrely, these films have nothing to do with the new Rian Johnson trilogy of Star Wars films, nor do they have anything to do with Episode IX.
Here's what the press release says:
These new films will be separate from both the episodic Skywalker saga and the recently-announced trilogy being developed by Rian Johnson, writer-director of Star Wars: The Last Jedi.
"David and Dan are some of the best storytellers working today," said Kathleen Kennedy, president of Lucasfilm. "Their command of complex characters, depth of story and richness of mythology will break new ground and boldly push Star Wars in ways I find incredibly exciting."
The timeline for the new films is completely unknown, but it feels as though Lucasfilm has become a kind of evil Empire, simply buying up any talent they like, and making those people make Star Wars movies until there are only Star Wars movies, and nothing else. Presumably, Benioff and Weiss will be prevented from making their seemingly racist alternate history show, Confederate, since making Star Wars movies will likely take up at least a decade.
Will the new Star Wars films helmed by Benioff and Weiss contain the same level of adult material as Game of Thrones? Did Lucasfilm need to hire more white men to make Star Wars films for the next generation? Will these movies feel remotely new, considering these writers have been steeped in fantasy tropes for almost a decade? Is this really happening? Yes.
Let's just hope this had nothing to do with their experience writing incest storylines.
At present, there is no release date set for the next season of Game of Thrones, or the new Star Wars films that will be written by the same people. Since you have to get all your fantasy and science fiction from the same brains now.