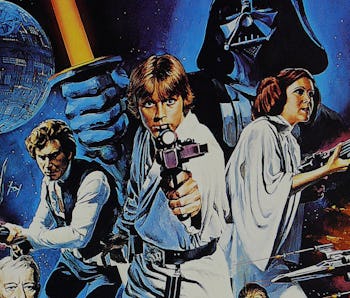 Entertainment
'Last Jedi' Director Rian Johnson Is Making a New 'Star Wars' Trilogy
Lucasfilm
The Star Wars galaxy is rapidly expanding in unexpected ways. Lucasfilm announced on Thursday that Rian Johnson, director of the upcoming Star Wars: The Last Jedi, has signed on to create an all-new, original trilogy, totally unrelated from the "episodic Skywalker saga."
Supposedly, this new trilogy will "introduce new characters from a corner of the galaxy that Star Wars lore has never before explored," meaning Star Wars fans can look forward to a host of new characters and planets. The majority of the Star Wars films have followed in the footsteps of the Skywalker family, with only the anthology films looking elsewhere for inspiration; Rogue One: A Star Wars Story, Solo: A Star Wars Story, and an as-yet-unnamed third anthology film broke the mold.
Johnson will continue to do so with this new trilogy.
"We all loved working with Rian on The Last Jedi," Kathleen Kennedy, president of Lucasfilm, said in a statement. "He's a creative force, and watching him craft The Last Jedi from start to finish was one of the great joys of my career. Rian will do amazing things with the blank canvas of this new trilogy."
After a couple of well-documented mishaps and disagreements between Lucasfilm and slated directors, it seems Kennedy and the rest of the Lucasfilm gang have finally landed on a director they want to keep around in Johnson.
Kennedy had recently announced that Lucasfilm was plotting out the "next 10 years" of the Star Wars universe and that fans would get to see new fan-favorites Rey, Finn, Poe Dameron, and BB-8 again. While some fans took that to mean none of their favorites would die by the end of Star Wars: Episode IX, that might not be right. Johnson could pull a mind trick and, maybe, tell the trio's origin stories with this new trilogy.
But that's all speculative. We know nothing about these movies.
If anything, this seems to confirm that The Last Jedi is a damn good movie.
Star Wars: The Last Jedi premieres in theaters on December 15.
If you liked this article, check out this video of this insane theory that connects Snoke to Anakin Skywalker.