Ron Howard is Now Directing 'Han Solo' Spinoff 'Star Wars' Movie
Phil Lord and Chris Miller's replacement is here.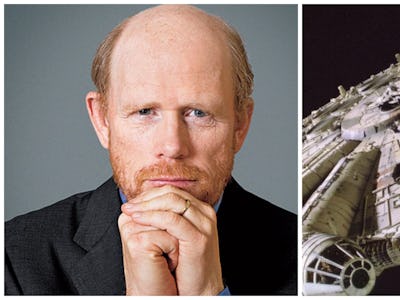 After co-directors Chris Miller and Phil Lord parted-ways with the upcoming Han Solo Star Wars standalone movie on Tuesday, speculation ran rampant as to who would replace them as the new director. And now, that question has been swiftly answered: Veteran Hollywood director Ron Howard will take the controls of the Millennium Falcon as the new director of the movie.
On Thursday, the Hollywood Reporter confirmed Howard has been named by Lucasfilm as the new director of the film. An offical announcement on Star Wars.com quickly followed in Lucasfilm president Kathleen Kennedy said: "At Lucasfilm, we believe the highest goal of each film is to delight, carrying forward the spirit of the saga that George Lucas began forty years ago. With that in mind, we're thrilled to announce that Ron Howard will step in to direct the untitled Han Solo film."
Ron Howard's filmography is varied and spans mutliple genres. His last mainstream film was 2016's historical-caper Inferno, which co-starred Rogue One star Felicity Jones. The last time Howard helmed a movie with spacecraft central to the story was in 1995's award-winning film, Apollo 13.
Howard also has another interesting connection to Star Wars. As an actor, he played Steve Bolander the 1973 George Lucas film American Graffiti. That film also featured a pre-Han Solo Harrison Ford as a drag-racing villain named Bob Falfa.
The Han Solo movie is slated to be released on May 25, 2018.