'Lego Movie' Directors Break Up With Han Solo Spinoff, Exit Film
Chris Miller and Phil Lord were kicked off the Millennium Falcon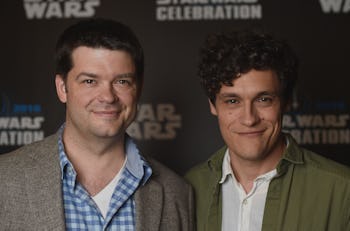 Getty Images / Ben A. Pruchnie
No one in Hollywood is bigger than Star Wars, not even the two of the hottest filmmakers in the business.
Chris Miller and Phil Lord, the writer/directors who turned the hokey old cop show 21 Jump Street into a smash film franchise and launched another multiverse with The Lego Movie, announced late Tuesday that they are exiting the Han Solo spinoff film. The filmmakers made the announcement in conjunction with Lucasfilm in a post to StarWars.com.
"Unfortunately, our vision and process weren't aligned with our partners on this project," they wrote. "We normally aren't fans of the phrase 'creative differences' but for once this cliché is true. We are really proud of the amazing and world-class work of our cast and crew."
Added Kathy Kennedy, the head of Lucasfilm and executive producer of the franchise: "Phil Lord and Christopher Miller are talented filmmakers who have assembled an incredible cast and crew, but it's become clear that we had different creative visions on this film, and we've decided to part ways. A new director will be announced soon."
According to Variety, it was much more contentious than those guardedly polite statements suggest. The trade magazine reports that Miller and Lord were fired from the movie after clashing with Kennedy and Star Wars vet Lawrence Kasdan on just about everything; Kennedy in particular, it's reported, had it out for the filmmakers from the start. "It was a culture clash from day one," one source told the trade. "She didn't even like the way they folded their socks."
The announcement comes almost exactly two years after the duo were officially announced as the shepherds of one of the so-called Star Wars stories, movies set in the franchise's greater universe but not part of the ongoing storyline. Miller tweeted a photo from the first day on set back in January, and according to The Hollywood Reporter, there are still three weeks left in principal photography.
This is far from the first time there has been a disturbance in the director's chair. After his disastrous Fantastic Four reboot and supposed meltdown, Josh Trank was forced out of a Boba Fett solo outing, while Gareth Edwards was at least in part displaced by Tony Gilroy on Rogue One.
Alden Ehrenreich, who caught the world's eye with a breakout performance in the Coen Bros.' comedy Hail Caesar, stars as Han Solo in his earlier days, before he met Luke Skywalker and got entangled in the battle with the Empire. The movie is still due out in May 2018. The real question now is, who will shoot last?