Musk Reads: Why SpaceX Delayed Starship Hopper
Plus, Tesla looks set to disrupt tax law and Musk jokes about Dogecoin.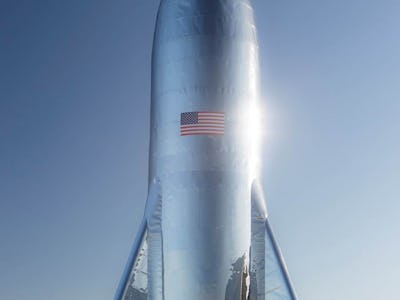 Twitter/Elon Musk
Tesla looks set to disrupt tax law; SpaceX explains why it delayed the Starship Hopper; and Musk jokes about being the new Dogecoin CEO. It's Musk Reads #72.
A version of this article appeared in the "Musk Reads" newsletter. Sign up for free here.
Musk Quote of the Week
"Dogecoin might be my fav cryptocurrency."
Read more about Musk's interest in Dogecoin here.
Tesla
A canceled Tesla Roadster feature could actually wind up being the future of electric cars. Musk explained on Twitter how the 2008 model could originally charge up other cars, similar to Sono Motors' upcoming solar-powered Sion and smartphones like the Huawei Mate 20 Pro. It could also be a step toward "vehicle-to-grid," where the battery stores renewable energy generated from a house, something Tesla has previously expressed interest in developing. As the battery in a Tesla is estimated to cost around $18,000, making it possible to pull energy from multiple different sources would lead to much greater efficiency. Read more.
Norway hit a major milestone this week after the majority of cars registered in the month of May were electric. The likely culprit is the Tesla Model 3, which reached Norway in February. Norway has the highest concentration of Tesla owners in the world, and owners tell Inverse they are impressed with its performance. Because of its embrace of electric cars, Norway could play host to further innovations in the field, as Oslo plans to launch 75-kilowatt wireless chargers for taxis this year. Read more.
What's next for Tesla: Tesla Autopilot is expected to gain the ability to stop at traffic lights this year, as previously promised. A car hacker called "greentheonly" tells Inverse that the system's latest update, which detects traffic lights, can already be modified to unlock the ability to stop.
SpaceX
Musk shared an incredible fan render of the Starship this week, showing the vehicle in all its stainless steel glory. A spokesperson for Gravitation Innovation, the team behind the render, tells Inverse the company has a focus "on spaceflight, robotics, and consumer electronics." The rendering comes as Musk explains why the Starship Hopper tests were delayed. Read more.
What's Next for SpaceX: The firm has completed its first hop with the Starship Hopper. Musk explained this week that the rocket was due to fly before, but issues with cryogenics have led to delays.
More SpaceX reads from this week:
NASA Will Have to Bend Over Backward to Achieve Pence's Prediction. Read more.
A Long Island Teen Is Forging a Path to Mars, One Homemade Rocket at a Time. Read more.
Musk in Pop Culture
Musk unveiled a bizarre new rap this week, dedicated to Harambe the gorilla. "RIP Harambe" comes after Musk's appearance on Meme Review and his online parody site dubbed "Thud," suggesting the CEO is not slowing down with the memes any time soon. Read more.
Photo of the Week
Starship renders get mocked up:
The Ultra-Fine Print
This has been Musk Reads #72, the weekly rundown of essential reading about futurist and entrepreneur Elon Musk. I'm Mike Brown, an innovation journalist for Inverse.
Sponsor Musk Reads and get your business in front of a brainy, curious audience that's motivated to make the world a little better tomorrow.advertising@inverse.com.
Email me directly at mike.brown@inverse.com and follow Inverse on Twitter @inversedotcom. Follow me on Twitter @mikearildbrown.
A version of this article appeared in the "Musk Reads" newsletter. Sign up for free here.