Arsenal's Stadium Battery Gives the Gunners Renewable Ammo
The north London football club partly goes off the grid.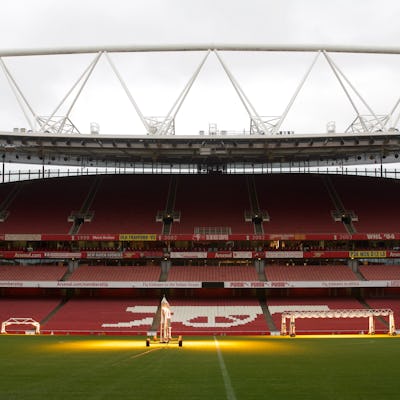 Mike Brown/Inverse
An Arsenal ornament hangs from a Christmas tree branch in a nondescript lobby at Emirates Stadium in North London, lights glowing in its reflective surface. Even on the days when there are no matches at this 60,260-seat venue, the quiet lobby off Queensland Road keeps the electric cheer going strong.
Just after 9 a.m. on an overcast day back in November, three Mikes gather in an that assuming waiting room for one of the best-known football clubs in the world.
There's Michael Lloyd, silver-haired manager of this 60,000-seat stadium, immediately identifiable as he's come dressed in a bright red jacket emblazoned with the famous, cannon-bearing Arsenal badge.
There's Mikey Clark, chief technology officer of Pivot Power, the glasses-equipped brains behind the stadium's latest big tech project.
And then there's me, the journalist who's come to learn about an ambitious plan to help power the whole stadium — and one day, maybe the Christmas tree lights in this lobby — off a giant battery.
As we make our way through the grey, concrete corridors of the Emirates, I catch glimpses of brightly-lit rooms, filled with photos of the team's crowning achievements. As someone who once failed to identify longtime football manager Sam Allardyce on a pub TV, I can't help but feel this tour is somewhat wasted on me.
Eventually, we're standing in front of a large array of grey boxes, enclosed behind fencing. On the outside wall, plants have pushed their way through the brickwork, backed by the overground railway that runs along the stadium perimeter. This cold-looking battery installation, overshadowed by the far more exciting football matches upstairs, could pave the way to avoiding a global ecological crisis. Arsenal has become the first football club in the UK to install a large-scale battery to power its stadium.
Four days earlier, Arsenal had announced that it had installed the 2.5-megawatt-hour lithium-ion battery storage system underneath the Emirates. That's the equivalent of 40 Tesla Model 3s. It's enough to power more than 10 million 10-watt light bulbs for 24 hours. It's enough to power 2,700 average UK households for about two hours. The battery is designed to work alongside a traditional grid setup to keep costs down during a match.
Following a successful run of the battery during a match with Cardiff City on January 29 — with the Gunners side winning 2-1 in a not-pretty affair — the stage is now set for its next challenge, when the Arsenal face off against Bate Borisov in Europa League competition on Thursday, February 21.
The irony that can't be passed over is that the Emirates Stadium is named so because Emirates Airlines — a subsidiary of the Emirates Group, an arm of the Dubai government's investment corporation — paid for the naming rights. (The airline also pays to have its logo on the front of Arsenal's shirts.) Oil revenue fueled growth of Dubai in the United Arab Emirates, but the vast majority of its revenue today doesn't come from oil. Even a region built on oil revenue is looking to the future.
The battery collects energy from its London-based renewables supplier, Octopus Energy, which was founded in 2016 to disrupt an industry it describes as "ruled by a handful of complacent dinosaurs peddling fossil fuels." Beyond cost-saving measures like an "Agile" customer payback system designed for electricity conservation, Octopus has attracted buyers with cute initiatives, like automatically playing the Number 1 song from a customer's 14th birthday when placed on hold.
The firm has powered Arsenal, its biggest client, with its mix of solar, wind, and biogas energy, since August 2017 — a moment marked by then-manager Arsene Wenger agreeing to flick a giant light switch on the pitch. Arsenal's battery-powered stadium could offer the first glimpse of a more sustainable future.
Batteries are ideal for use with renewable sources, as they store collected energy from sources like the sun and wind, ensuring that it's ready to send out when people need it. Tesla's 100-megawatt behemoth in South Australia, switched on in November 2017, helped the state avoid blackouts. These used to be a frequent occurrence for the state, which derives a third of its energy from renewable sources like wind and solar.
Pivot Power, a London-based battery storage supplier and operator, will operate Arsenal's battery for the next 15 years. But this could prove miniscule compared to what comes next, as the firm is also planning to roll out 50 megawatts of grid-scale batteries to homes across the United Kingdom. Forget Elon Musk's house of the future — this could be the stadium of the future.
There's just one problem, says Matt Bunney, head of fuel procurement for Octopus Energy. The greatest energy demand in the UK comes precisely when there's no much renewable supply: When it is dark, cold, and still.
"The highest demand on the system is six o'clock on a winter weekday evening," Bunney tells Inverse. "Generally the wind won't be blowing, the sun certainly won't be shining. Whatever the renewables do, we still need to be able to meet that demand. However, storage and batteries really unlock this, which is very exciting."
Arsenal's 1,937-square-foot battery can store 2.5 megawatt-hours of energy, the equivalent of using 2.5 megawatts for one hour. Pivot Power plans to upgrade the system this summer to store three megawatts, or 3.7 megawatts, approximately the total amount used by the stadium on match day.
Despite meeting the club's energy needs, it's unlikely to run a full match off the battery, unless absolutely necessary, choosing instead to continue partially running off the battery while also calling on the grid. If there's a blackout in London, at least the Arsenal match can continue. In theory, of course.
Powering a stadium sustainably has a number of unique challenges. Those 60,000 visitors all expect to use food, drink, and facilities during a two-and-a-half hour period. If a match runs after sunset, the club needs to switch on powerful floodlights to illuminate the pitch.
During the winter months, Arsenal also needs to maintain its grass by running artificial grow lights to simulate sunlight. Octopus Energy, which ranks Arsenal as its biggest customer, has to plan accordingly.
"We work with them to get a list of fixtures, so if they've got a game that starts at three o'clock on a sunny afternoon, they'll have a different power consumption profile to seven o'clock on a Tuesday evening," Bunney says, effectively saying Arsenal's battery can do it on a cold, rainy night in North London.
Arsenal has aimed to offset each of these issues as part of a broader sustainability effort. The club now recycles around 80 percent of match-day waste like food. It's also installed LED floodlights in the stadium that use 30 percent less electricity. Lloyd says that the club's groundsman has experimented with LED-based grow lights that could reduce consumption further. The battery should also make Bunney's life easier, as the stadium won't depend on Octopus supplying all its energy during a match.
Standing in the dingy underside, it's hard to imagine this lifeless array playing a grand role in saving the planet. Clark stands on the metal grate floor, designed to protect his pride and joy from the forces of nature.
"This really is a flagship project for us, we certainly see it that way," he says.
The battery is four modules configured as one battery system. Each bank has four blocks with inverter modules, transforming the DC power out to AC, before sending it through to the main high-voltage ring. The team can monitor a staggering amount of information about this setup, including how much power the stadium is using. While the operators know the estimated price of electricity a day in advance, and can plan accordingly, the system can also detect when there's an unexpected imbalance in the power grid through the attached substation that leads to the local power network.
"We can push or pull power to make the Emirates Stadium look like it's consuming a little bit more when energy is cheap, and a lot less power or even export power back to the grid when the prices dictate that," Clark says. While the true cost savings to the club will depend on the cost of electricity, Clark says it will be "certainly a double-figure percentage."
It's not until we make our way through the stadium, that the battery's role becomes clearer, as we pass suited officials working overtime in well-lit meeting rooms, flanked by newspaper clippings of Arsenal's proudest moments. We make our way through the press area, through the passage and out into an eerily quiet pitch, where grow lights silently hurry the grass. Even outside of match days, there's a flurry of activity demanding power around the premises.
"The battery is fantastic, a great project," Lloyd says, facing out onto the brilliant green turf. It's a chilly day, but his pride for the club's efforts still radiates brighter than his jacket. "What it means is we can run our floodlights, our grow lights, and we can always make sure that when we're using those big consumers, that we're getting that at the best price."
Arsenal hosts a number of sustainability initiatives, like in 2017 when it planted 2,000 trees in 50 schools in partnership with Octopus Energy. It also plans to plant 500 trees at its Colney training ground in London. Lloyd is keen to stress, however, that the battery is not just some sort of public relations play.
"People automatically think 'Oh, you're only doing it because you want to be green or because you want the publicity,' but there's also a lot of operational things in there," Lloyd says. "It's about running a business efficiently. Energy is a huge cost to the club, so managing that properly is great. If we can do that in a sustainable way, then all the better."
When Arsenal takes to the pitch on the 21st against Bate Borisov, they will play on green grass grown under green-powered lights, surrounded by fans supporting their efforts. The club's push to renewables is entering a new phase, and it seems others may follow in their footsteps.
"We've had dozens of other clubs approach us about working with them in the same way," Rebecca Dibb-Simkin, Octopus Energy's director of product and marketing, tells Inverse.
We make our way back through to the Queensland Road lobby, passing by pictures of what I assume to be famous players. Clark breaks the silence.
"You a football fan, Mike?" he asks.
It's a fair question, one that most British men in their mid-20s can readily answer, but inside one of the country's most impressive stadiums, it seems a bit dismissive to roll out my usual "I catch the Euros when they're on."
"Oh…uh…you know…" I half-reply.
I'm aware that I'm in the minority. Around 52 percent of Brits, and 46 percent of the world, have an interest in football. But it's through this feeling that I understand why this is so massive.
Batteries are dull tiny things that fall out of TV remotes, but the world's biggest sport now has a stadium using one to run its games. Far from shoving batteries away in some pokey maintenance area, Arsenal has thrust this future energy source into the limelight.
Keep reading: