Tesla Autopilot: Video Shows Hidden Ability to Stop at Red Lights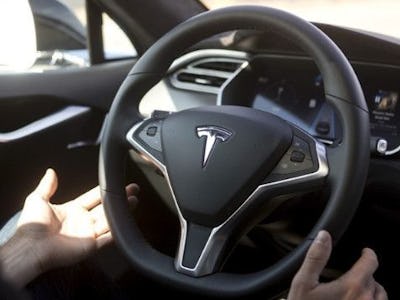 Flickr / automobileitalia
Tesla's vehicles have a hidden ability to stop at red lights, a video uploaded Wednesday reveals. The company recently rolled out an update to its semi-autonomous Autopilot system earlier this month that alerts the driver of oncoming stop signals and traffic lights, but one tinkerer has modified their car to unlock a promised upcoming feature: stopping and starting at these signals.
"The detections are available in all cars today," the user, who goes by the name "greentheonly," tells Inverse. "It's the actual stopping that you need to do some tricks to actually enable."
The hack reveals some of the hidden features of version 19.8.3, which rolled out as an over-the-air software update for vehicles built after October 2016. Tesla's "Hardware 2" suite of cameras and sensors are designed to eventually support full autonomous driving, with updates gradually taking over more tasks from driving. CEO Elon Musk announced in December 2018 that the company was testing traffic light, stop sign and roundabout detection, adding: "Your Tesla will soon be able to go from your garage at home to parking at work with no driver input at all."
The eight-minute video goes some way toward explaining why the feature has not been enabled yet. While initially, the car appears to handle detection fine, there's a moment at the four-minute mark where the car becomes confused about the light's status and starts indicating that it's switched to green. Fortunately, the feature prompts the user to press the accelerator rather than pushing ahead in these situations.
The functionality places Tesla on a good path to achieving its goal of traffic light detection sometime in 2019. The company charges $4,000 after delivery for enhanced Autopilot and $7,000 for "full self-driving," a package that includes responding to traffic lights, advanced summoning, automatic lane changes, and navigating based on inputted destination.
"I have no actual inside sources at Tesla to see their internal progress," the user says. "That said we know they ARE already detecting stop signs and traffic lights today on 19.8.3. You can see traffic lights in the video and stop sign videos will come out later. So as far as detection, they met their deadline already I guess?"
Musk has expressed confidence about the company's progress on full self-driving. In a January earnings call, he claimed that the technology will be ready "probably towards the end of this year, and then it's up to regulators to decide when they want to approve that."
A Tesla that will be able to drive itself without any humans paying attention, however, is likely to arrive a lot later. Musk stated last month that that capability would arrive "probably towards the end of next year."