'Jung Musk': Elon Musk Adopts New Persona After Dropping 'RIP Harambe' Rap
The Tesla CEO has entered the SoundCloud fray.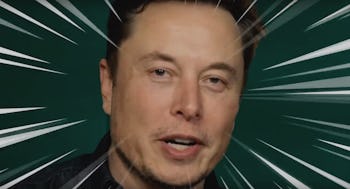 PewDiePie/YouTube
Ready to meet "Jung Musk"? Tech entrepreneur Elon Musk surprised followers over the weekend with the release of a rap dubbed "RIP Harambe," a tribute to the gorilla shot three years ago at the Cincinnati Zoo. Musk, who's earned a reputation as a big fan of memes, has taken on a Carl Jung-inspired persona as part of the release.
It's a fitting turn of events for the Tesla and SpaceX CEO, whose meme-laden online presence led to him hosting PewDiePie's Meme Review with Rick and Morty co-creator Justin Roiland and founding an online parody site dubbed "Thud." Musk's Harambe-inspired track references the meme that emerged after a three-year-old fell into the gorilla's enclosure and zoo officials shot the animal to avoid harming the child.
The song was uploaded with a reference to "Emo G Records," a play on the term "emoji." The single's cover art also bears more than a passing resemblance to Dr. Dre's 1992 album The Chronic.
Listen to Musk's track, which was edited using Ableton, below:
The Harambe memes revolved around users morning the gorilla's death in exaggerated ways, culminating in Machete's Danny Trejo calling for "dicks out for Harambe." The zoo's director said it was "not amused" by the memes, but the zoo still receives regular references to the incident via Twitter responses.
Musk followed up the release of his single by changing his Twitter avatar to a Starship concept rendering and changing his name to "Jung Musk." Musk later appeared to correct a tweet from "HipHopFacts" that referred to him as Elon Musk by sharing a screenshot of quotes from Carl Jung. The Swiss psychiatrist's surname is pronounced like the English word "young," meaning Musk is likely crafting a rap name for himself akin to Young Thug or Young M.A.
Musk is no stranger to using Twitter for elaborate pranks. After launching his tunnel-digging venture The Boring Company, Musk announced via his Twitter that he would sell hats and flamethrowers emblazoned with the logo as an apparent reference to cult sci-fi comedy Spaceballs. His cryptic tweets in March 2018 about an "intergalactic media empire" ultimately resulted in the founding of "Thud."
The entrepreneur's new rap direction has drawn questions over whether he has too much free time. In response, Musk made a reference to cult YouTube series Don't Hug Me I'm Scared.
"Some people use their hair to express themselves, I use Twitter," Musk wrote.
Musk made the same reference back in December 2018, during a 60 Minutes interview about issues with the Securities and Exchanges Commission. The commission reached an agreement with Musk that his tweets would be overseen by Tesla, after Musk declared in August 2018 he would take the company private at $420 per share.
Whether his new persona or Harambe rap have a deeper link to any of his businesses is unclear.