Elon Musk Posts Cryptic Tweets Teasing "New Intergalactic Media Empire"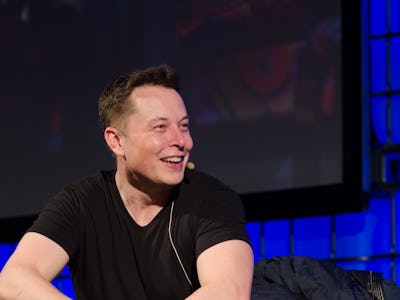 Heisenberg Media
Elon Musk, founder of SpaceX and purveyor of shooting unmanned cars into deep space, seemingly stumped his Twitter followers Wednesday after posting a cryptic tweet about an apparent and forthcoming "intergalactic media empire."
Musk initially tweeted "Thud!" to his 20 million followers early Wednesday. When pressed for more clarification about the tweet by his followers, he gave respective responses of "Thinkularity" and "Resist." Several hours later, Musk wrote that his initial tweet was "the name of my new intergalactic media empire, exclamation point optional."
It's unclear whether Musk pushed out the series of tweets in jest, though it would certainly appear that way. The tweets followed a story published by The Daily Beast earlier this week claiming Musk partnered with former staffers of the satirical news website The Onion on a "secret project financially backed by Musk."
"It's pretty obvious that comedy is the next frontier after electric vehicles, space exploration, and brain-computer interfaces," Musk told The Daily Beast in a statement. "Don't know how anyone's not seeing this."
Musk reportedly developed a working relationship with former Editor-in-Chief Cole Bolton and Executive Editor Ben Berkley following their exit from The Onion last year over, and the team has since poached several other of the outlet's staffers.
Musk has something of an ongoing relationship with the publication, as he's known for sharing its articles and even considered buying the site in 2014 before it was purchased by Univision, The Daily Beast reported.
For its part, The Onion has its own history of poking fun at the billionaire space enthusiast. Just last month, the publication ran a story titled, "Elon Musk Offering $1.2 Billion In Grants To Any Project That Promises To Make Him Feel Complete."
And perhaps serving only to warp our sense of reality further, yet another satirical news site had appeared Wednesday to get in on the fun. ClickHole ran a story Wednesday ostensibly penned by Musk himself titled, "I Did Everything I Could To Buy ClickHole, But Their Editorial Integrity Won Out Over My Billion-Dollar Offers, And I Respect Them Even More For That (By Elon Musk)."
"None of my desperate, grandiose pitches to change their minds were a match for ClickHole's principled resistance to temptation. I would put their children through college, and their children's children. I would give them any amount of my own shares in Tesla or SpaceX that they wanted," the story read.
"Yet even the auspice of a billionaire tangentially connected to their noble process of sharing the most attention-grabbing quizzes, blogs, and fail compilations was reason enough for them to rule out my propositions. I stood there, not in anger at ClickHole's dismissal of my offers, but rather in awe of their unyielding allegiance to promulgating shareable articles in the face of great fortune."
While Musk may indeed be spearheading a new media property with the poached talent of The Onion's staff, it's probably safe to assume that his "intergalactic media empire" is nothing more than a bit of fun — for now, at least.