Valkyrie is Bisexual in 'Thor: Ragnorok,' But You Won't be Able to Tell
Tessa Thompson confirmed the character's sexuality on Twitter.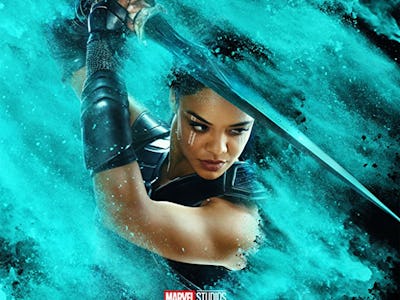 IMDB
Actress Tessa Thompson tweeted on Saturday that her Thor: Ragnarok character is bisexual, a disclosure that's led many outlets to announce Thompson's Valkyrie as the first openly LGBTQ character in the Marvel Cinematic Universe. This is as much a culturally significant announcement as it is a complicated one: Thompson's dedication to presenting her character in a way that respects her sexuality in the comics is unique, but there's no actual evidence of Valkyrie's bisexuality in the movie. It's a step towards a direction where the inclusion of LGBTQ characters is the influential norm, but it's far from a movie studio celebrating a bisexual hero.
While Marvel Studios produce Brad Winderbaum has said that Thompson's Valkyrie will differ from the source material in some subtle ways, Thompson's choice to portray her as bisexual is in line with the character's story in the comics. On the page, Vaklyrie has had romantic relationships with women, like the archeologist Annabelle Riggs, and with male characters like Thor and Agent Venom. However, Screenrant writer Rob Leane notes that while Ragnarok features flashbacks of her fighting alongside female warriors, her romantic chemistry is reserved for Thor and Bruce Banner.
While the statement that a queer character's sexuality "isn't explicitly addressed" is far from visible representation, Thompson's claim that she played her character as bisexual is a marked difference than the cinematic representation of another canonically queer character: Wonder Woman. Comics writers Greg Rucka and Gail Simone, who both author Wonder Woman comics, have been emphatic that the Amazonian warrior has always been bisexual, a backstory that led some to predict that Gal Gadot's Wonder Woman would become the first big screen queer superhero.
However, while Gadot noted that while it would make sense for Wonder Woman to be bisexual, and even said she wouldn't mind having Halley Berry as a romantic interest in a future movie, she also made clear in interviews that her character's potential romantic relationships with woman would not be explored in the first film.
Valkyrie's bisexuality in the Marvel Cinematic Universe is more like Albus Dumbledore's homosexuality in the Harry Potter books: Sure it's nice to hear that these characters are contributing to a world that looks more like our real one, but if a consumer can't tell a character is queer, is it really representation? The newest Power Rangers movie was celebrated before its release for being the first to include an openly lesbian character on the team, but fans were disappointed to realize that Trini's queerness was only alluded to in a short line where she says she has "girlfriend problems."
While queer characters are still vastly underrepresented in media, their inclusion does create a real-world impact. In a 2011 study published in the Journal of Homosexuality, a team of psychologists writes that gay, lesbian, and bisexual study participants revealed that they saw media role models as "sources of pride, inspiration, and comfort" and that seeing LGBTQ characters influenced their own "self-realization, coming out, and current identifies."
Representations of queer characters like Valkyrie and Wonder Woman in major blockbusters could be particularly powerful for bisexual people, who studies have found are the most likely to report impaired physical and mental health within the LGBT population. In a 2016 JAMA study researchers noted that 40 percent of bisexual men reported moderate or severe psychological distress, compared to 16 percent of heterosexual men and 26 percent of gay men. Meanwhile, 46.5 percent of bisexual women reported they felt moderate or severe psychological distress, compared to 28.4 percent of lesbians and 22 percent of heterosexual women.
The number of young people who vocally identify as bisexual is also growing, making increased representation a pertinent issue.