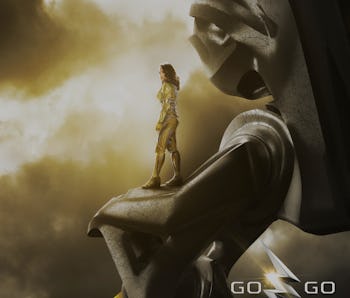 Entertainment
One of the 'Power Rangers' Is Queer in the New Movie
The teenage superhero sensation from the '90s are back in Saban's Power Rangers, the reboot film Lionsgate and Project Almanac director Dean Israelite. Reviews for the film, which is slated to hit theaters this week on March 24, are starting to trickle in and there have been two big revelations regarding two of the teen defenders: The Blue Ranger, Billy (RJ Cyler) is on the autism spectrum, and the Yellow Ranger, Trini (Becky G) is queer.
The film doesn't play coy or tease these attributes. In the script, written by a committee of scribes including John Gatins (Flight), Kieran Mulroney, Michele Mulroney and Matt Sazama and Burk Sharpless (Dracula Untold), Billy's autism, and Trini's queerness are spoken unambiguously. Trini confesses her sexuality in an Act 2 campfire scene where the teens rest from their heroic training and opening up about their feelings.
Billy's autism, meanwhile, was hinted in the trailers. Actor RJ Cyler (Me, Earl, and the Dying Girl) made no explicit reference towards his character's place on the spectrum, but he has favorited and retweeted messages from fans making the point on Twitter prior to the movie's release.
Early reviews from outlets like Forbes confirm the film's admirable representation of often absent figures in pop culture. "Arguably just as important, John Gatins' screenplay (with a story by Matt Sazama, Burk Sharpless, Michele Mulroney and Kieran Mulroney) puts one of our heroes 'on the spectrum' while outing one of them as explicitly gay," wrote Scott Mendelson in a positive review. "The film doesn't dwell on any of this, but our heroes are a truly diverse group of kids in more ways than one."
While the diversity can be attributed to the movie aiming to portray real teens — at least real teens who live in a world of robot dinosaurs and space witches — it also feels like making up for past sins. In the TV show, none of the characters were queer or on the spectrum, but actor David Yost (who played Billy) was/is gay, and was subject to a degree of bullying and suspicion on set. Yost opened up about his past in a 2010 video interview with the podcast No Pink Spandex.
Fans on Twitter have reacted positively to the news over the robust diversity on display, which is not often seen in the big, glossy spectacles from the likes of Marvel and DC. There have been several queer characters on Marvel's TV shows and Curtis Holt (Echo Kellum) on Arrow is gay, but there haven't been any visible gay superheroes in Marvel or DC's films.
Go go, Power Rangers. They're really being heroes.
Saban's Power Rangers hits theaters on March 24.