Why Tesla's Path to Becoming the Next Apple Won't Be Easy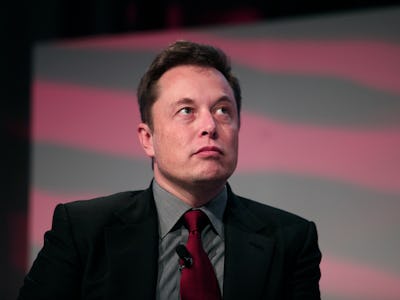 Getty Images / Bill Pugliano
Tesla is still riding high on the huge wave of expectations for the upcoming Model 3, but analysts studying the company are now looking even further into the future — where competitors like Apple and Google loom.
In a note to his clients on Monday, Morgan Stanley analyst Adam Jonas said that Tesla's future rides on whether or not it can become the next Amazon or Apple. Jonas usually takes a bullish view on Tesla (he's a pretty outspoken cheerleader and thinks the company is on the up), but his note on Monday is adamant that despite CEO Elon Musk's successes, the electric car and sustainable power company will eventually run up against some huge opponents.
"The bull case on Tesla is that it can become the next Amazon or Apple. We see such firms as competitors ultimately. We question whether the risks of going head-to-head vs. the tech giants is sufficiently discounted in the price," Jonas wrote, according to CNBC. "We expect much larger and more well-capitalized competitors to unveil strategies that directly address sustainable transport and mobility."
What Jonas is referring to, of course, is the fact that Amazon, Google, Apple, and many of the already-established Silicon Valley kingpins aren't just sitting around making cell phones, search engines, and shopping sites while the future of transportation passes them by. Google's Waymo arm is working on self-driving cars, as is Apple. Major motor companies like Ford are working on autonomous ride-sharing services. Just today, Waymo and Lyft confirmed a partnership to develop self-driving ride-sharing cars.
In a way, Jonas is kinda bursting his own bubble here. For years, he's been basing a huge amount of his Tesla hype on the future of "Tesla Mobility," an autonomous ride-sharing service outlined in Musk's second master plan. Jonas brought up a possible collaboration with Apple in the last Tesla investors' call, which Musk quickly laughed off, so it seems the electric car company is pretty set on going it alone. In that case, the company has to deliver on its targets for the Model 3. As Bloomberg reporter Tom Randall pointed out, Jonas has also said he thinks Tesla will fall short — which doesn't look good for the company's future autonomous ride-sharing fleet.
Musk himself has noted that Tesla's stock is "massively overvalued" based on the past. What he's pointing out is that the company's enormous market capitalization is an indicator of how investors think it's going to do in the future, not a reflection on its current finances. All of this to say is that with Tesla, we still don't really know what it's going to be worth — and as Jonas and others have pointed out with varying degrees of cynicism, there are stil a lot of mountains to climb ahead.