Why Tesla's Market Value Victory Over GM "Isn't Fair" Yet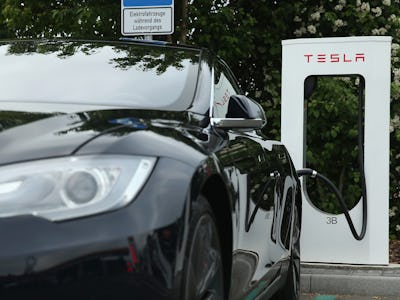 Getty Images / Sean Gallup
On Monday, Tesla's total market capitalization rose to nearly $51 billion dollars, making Elon Musk's innovative electric car company the most valuable automaker in America. But while Tesla is currently riding an all-time high, analysts warn that the company's record-breaking numbers are more of an expression of faith, and not the company's true value.
Last week, Tesla came so close to GM's market cap — the total value of all stocks a company has on the market — that most outlets reported that it had finally reached the top, although it appears to have missed the mark slightly. But now it appears to be official: Tesla is the most valuable car company in America, ahead of both GM and Ford. And while Elon Musk is undoubtedly pleased by investors' faith in his company, Tesla has a long way to go before it can truly rival GM and Ford.
"Is it fair? No, it isn't fair," Maryann Keller, an auto-industry consultant told Bloomberg after the markets opened on Monday morning, sealing Tesla's victory over GM. "Even if Tesla turns a profit, they will eventually have make enough to justify this valuation."
What Keller means is that without a meaningful plan to sell a profitable product, Tesla's soaring stocks are just speculation. Wall Street analysts are pretty evenly split on what will happen to the company's stock this year, but all agree that the upcoming release of the Tesla Model 3 will be the turning point in the company's future. Musk himself has mentioned that Tesla is "absurdly overvalued" at the moment. Essentially, market capitalization is representative of the company's future, not what it's worth right now — and that's where Tesla outshines the competition.
"Investors want something that is going to go up in orders of magnitude in six months to six years, and Tesla is that story," Karl Brauer, a senior editor at Kelley Blue Book told the New York Times. "Nobody thinks Ford or G.M. is going to do that."
The first big test for the company, of course, is the Model 3 release. The company is already breaking its own records for car deliveries. But if the Model 3 doesn't meet it's production deadlines in July, it's Tesla's stock will probably fall, even though the company is just getting started.