Elon Musk is Pretty Pleased Tesla is Now Worth More Than Ford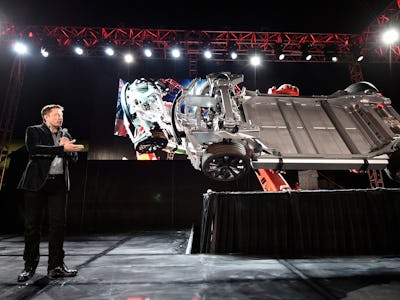 Getty Images / Kevork Djansezian
Tesla is coming for the top, and it's coming fast. On Monday, Elon Musk's electric car and energy company officially passed Ford Motors in value, and the electric car company's CEO and founder let his critics know it.
Musk's company rode a surge in stock prices, rising 6.72 percent to nearly $297 per share on Monday, bringing the company's total market cap — or total value of all shares of the company — to $45.39 billion. Ford currently has a market cap of $44.97 billion. It's worth noting that market cap is only one way economists assess the value of a company, but with the heavily-anticipated Model 3 about to enter widespread production, Tesla's stock is red hot. Musk, who probably woke up to the good news in California, three hours behind Wall Street, fired off a quick little jab at everyone who had bet against his company.
"Shortville," in this case, is most likely a dig at people who advocated for "short-selling" Tesla's stock, or selling it off at a high point, anticipating that they could buy it back for cheap once it took a nose dive. With Tesla's stock ticker climbing decidedly upwards, people living in "shortsville" probably made the wrong choice. The company recently set internal records for shipping and producing cars in the first quarter of 2017, putting it in a pretty good place going into the widespread launch of the Model 3.
Tesla might have a higher market cap, but it's still nowhere near the kind of powerhouse that Ford is. The legendary American automaker still boasts billions of dollars in profit each year, something Tesla can only aspire to at the moment. Tesla stock is on a hot streak, but Musk's company is still in very early days, and with its future riding on the debut of the Model 3, the battle for the American auto market is still very much up in the air.