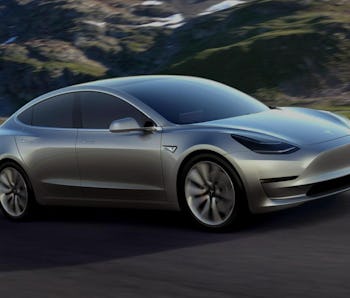 Innovation
The Tesla Model 3 is Having a Huge Impact on Wall Street
Tesla
Tesla's stock is soaring as investors gear up for the Model 3 launch. On Tuesday, the company almost jumped past General Motors in terms of market cap to become the United States' most valuable car company, but fell short of the mark narrowly, according to NPR. Musk has been keen to note that although Tesla has a shorter history than other brands, the stock price is based on future performance, so analysts are now trying to decide what that future looks like.
In its most recent quarter, the company delivered 25,000 of its premium-range vehicles, a new record. There's no denying that the Model 3, with projected production rate of 250,000 per year and asking price of $35,000, will have a major impact on the company's fortunes. It's make or break time, but analysts can't quite agree on which way the stock price will move.
Analysts are evenly split: the Wall Street Journal counts seven analysts recommending investors reduce their Tesla stock, seven analysts recommending an increase, and nine analysts telling investors to hold onto it for now.
For D.R. Barton Jr., Money Morning's technical trading specialist, the stock price is dangerous because it's based on the idea that Tesla will reach all its Model 3 targets. The company is expected to start producing the car in July, but even Elon Musk has said that the date is a tactic to hold suppliers' feet to the fire and deliver on time.
If Tesla slips on any of its deadlines, Barton believes the stock price will suffer. Unfortunately, Barton said there's good reason to think that it may fail as the company has failed to deliver any of its vehicle launches without at least some flaws along the way.
"I certainly can't be a buyer of it up here at these rarefied numbers," Barton told CNBC.
On the other hand, Morgan Stanley Adam Jonas thinks the Model 3 may turn out to be slightly too good. In a note released Monday, he said the car could have 19 sensors powered by a liquid-cooled supercomputer 40 times more powerful than the one found in Mobileye-powered Autopilot cars.
"In our opinion, Tesla may be downplaying the role of the all-new hardware architecture of the Model 3 in terms of improved occupant and pedestrian safety to avoid cannibalization of demand of the other models (i.e. S and X) that do not have the new hardware architecture," he said in the note seen by CNBC.
Jonas is a strong proponent of the idea that the Model 3 will transform Tesla. He's described the Model 3 as potentially having "superhuman" safety features, and believes that because the car's autonomous capabilities will improve over time, its used price won't act like regular cars. On Tip Ranks, Jonas is listed as recommending a "buy" for Tesla stock.
At a valuation of $52.7 billion, there's big money at play, and plenty to lose if analysts make the wrong call on Musk's major expansion.