Tesla is Almost America's Most Valuable Car Company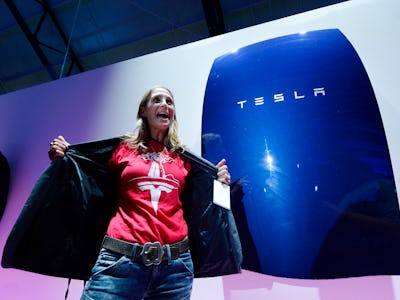 Getty Images / Kevork Djansezian
On Tuesday, Tesla almost, almost surpassed General Motors in total market capitalization to become the most valuable American car company, but just barely missed the mark. Inverse and other outlets initially reported that Tesla had reached the top spot, but very narrowly missed. The news is huge, but not altogether unexpected, as Tesla's stock has been skyrocketing over the past few days, and currently trades at $301.74 per share.
On Tuesday morning, Reuters reported that Tesla had a valuation of $52.7 billion, compared to GM's market cap of $49.6 billion, despite the fact that Tesla is only 13 years old, and GM has dominated the auto industry for much of the century. But by mid-afternoon, corrected figures still showed Tesla at number two, with a market cap of $49.1 billion compared to $51.1 billion for GM, according to a Reuters update (market shares can fluctuate by billions of dollars on a daily basis).
The news comes after the company reported it broke quarterly car delivery records, setting it well on its way to expanding market share with the upcoming Model 3.
It's the second time this week that Tesla has either defeated or challenged an established automaker for top spot in the stock market. On Monday, the company surpassed Ford in terms of valuation, coming in at $45.39 billion versus Ford's $44.79 billion. Musk responded with "stormy weather in Shortville," a likely dig at those who suggested short-selling the company's stock in anticipation of a decline.
Musk also said that Tesla was "absurdly overvalued" if people looked at the company's past, but stock price focuses more on the future of a company:
And Tesla's future looks bright. In July, the company is expected to start producing the entry-level $35,000 Model 3, which will bring the company's technology to a whole new audience.
Musk has big plans to ramp up production, and there are signs it could succeed. On Sunday, the company announced it broke delivery and production records in the first quarter of 2017, delivering around 25,000 cars. That's a 69 percent increase when compared to the first quarter of 2016, but it's not quite enough to meet Musk's lofty Model 3 production goals.
By the end of 2018, the company wants to reach production levels of 500,000 vehicles per year, 250,000 of which will be Model 3 cars. To reach this goal, work is ongoing to finish the Gigafactory, which when complete will produce batteries faster than bullets from a machine gun. Tesla needs a high level of battery output if it hopes to equip all these new cars with storage.
Correction 2:40 p.m.: The original version of this article reported that Tesla had passed GM. The headline and text of the article have been updated to reflect Wall Street's latest projections.