Ford Wants a Hybrid, Autonomous Ride-Sharing Vehicle By 2021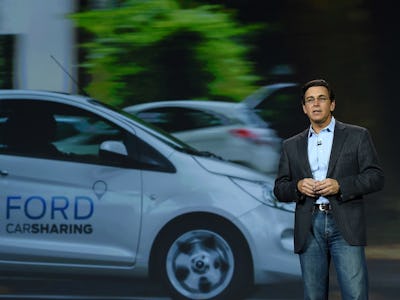 Getty Images / Ethan Miller
Ford wants to make a fully autonomous, hybrid-electric car that's perfect for ride-sharing and put it on the streets in numbers by 2021.
At a press conference in Flat Rock, Michigan, on Tuesday, Ford CEO Mark Fields announced plans to invest $700 million to expand its assembly plant in Flat Rock — the same one that will soon start turning out these autonomous vehicles.
"They're all new, and they're nothing like anything we have on the road today, and yes, they'll be built right here in Flat Rock," Fields said.
Ford plans to skip Level 3 autonomy and go straight to Level 4, which means the cars can drive by themselves, but not at all speeds or conditions. It's one step away from Level 5, which is full automation.
Tesla, Google, and Uber are also working on similar ride-sharing services using self-driving cars. Although fully-autonomous cars are still in the works, they may be able to better avoid accidents and traffic delays, as well as prevent car accidents from human error.
Ford's plan is part of a $4.5 billion investment in electric vehicles. Fields said the company's autonomous cars won't be fully-electric vehicles, running instead on a combination of gas and electric power. But they will go all-in on autonomy — Fields said the mass-produced models won't even have a steering wheel or gas and brake pedals. The idea is that the vehicles will find a niche in the future's new sharing and ride-hailing economy, a market that other automakers are quickly trying to tap into as well.
Elon Musk of Tesla wants to create self-driving cars that can be put to work when the owner is not using it, earning back some of the vehicle fares. And last month, Uber even started a pilot program for a self-driving ride-sharing service in San Francisco. This backfired because one of the cars ran a red light, and Uber did not apply for self-driving permits for any of its vehicles. Since then, Uber has stopped the pilot program and is looking to redeploy its cars.
The Wall Street Journal reports that Google has rolled out a beta program for a ride-sharing service, and executives may look into using ride-sharing as a way to profit off the driverless car Google is developing. What makes Google's service different from Uber and similar services is that it's restricted to ride shares.
Tesla hopes its consumer-friendly Model 3 will fill a similar niche for a mass-produced, autonomous-driving capable vehicle. Its Autopilot guidance system is still in development, but it hopes it will have "fully self-driving capability" by the end of this year. Ford's vehicle won't be on the road until 2021 at the earliest, but the vehicle will start with full autonomy.
Although Ford hasn't released details on how its ride-sharing service will work, we know that it will be designed for commercial use and that Ford will continue working on innovation in both creating and using electrified vehicles.
"We feel just as strongly about building the infrastructure and also the services that make owning and using electrified vehicles very easy for our customers, Fields said.