Sony ZV-E1 Review: The Perfect Vlogging Camera for a One-Person Show
Sony understands the struggles of being a one-person vlogging team and the ZV-E1 is the solution to all of that.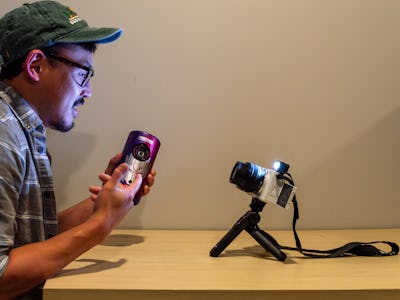 Photograph by Jackson Chen
Gear Reviews
We may receive a portion of sales if you purchase a product through a link in this article.
For as simple as YouTubers make it look, vlogging is not easy.
Never mind talking into a camera for millions of potential viewers, you still have to get compelling footage, ensure the audio is clear, and get so, so much B-roll. YouTube or vlogging may not seem like a traditional job, but I'm here to say that every polished video is a logistical feat in itself.
Considering all of that, I am decidedly not someone who knows how to vlog. Most of my time with a camera is spent shooting photos because they are far less complicated than video. Even with my limited video experience, I really appreciated how easy Sony made vlogging and capturing cinematic — extra emphasis on cinematic thanks to a specific mode — video overall with its latest ZV-E1 mirrorless camera.
This full-frame vlogging-centric camera is Sony's latest push to attract content creators to its brand. It packs a 12-megapixel 35mm full-frame image sensor, making for Sony's first full-frame option in its ZV lineup. The ZV-E1 can record up to 4K resolution at 60 fps and full HD at an even higher 120 fps, all with the ability to swap out lenses for compatible Sony E-mount options. Sony even shoved in a processing unit dedicated solely to all the AI features that make getting usable footage that much easier.
A BUTTON FOR EVERYTHING
Being the complicated balancing act that filming vlogs already is, there are so many things to keep track of before you even hit record. Whoever's watching your vlog may only see the final, usable take, but they don't see all the failed attempts due to messing up your talking points or incorrect settings. Good thing Sony built the ZV-E1 with a button to meet your every need.
The "Cinematic Vlog" button was the most used and most fun button during my time spent with the ZV-E1. I can't stress how convenient it is to have a button that instantly turns your boring B-roll into something cinematic. The Cinematic Vlog option is just a macro that drops the frame rate to 24 fps and switches to a 2.35:1 aspect ratio (for that cinema look), but it felt like having a "cheater button" to get much more interesting shots. There's even a Background Defocus that makes getting a shallow depth of field as easy as one button press.
Sony cemented the ZV-E1's design as a vlogging camera with the "Product Showcase Setting" that automatically switches the focus from your face to whatever product you're showing off. We've all seen product review videos where the lens' autofocus goes on the fritz trying to bounce between subjects. But the ZV-E1's AI capabilities are smart enough to switch focus seamlessly so you don't have to feel like you're fighting the autofocus.
It may be a simple feature compared to the previously mentioned AI-powered functions, but the ZV-E1's option to set the microphone's direction to front, rear, or all directions is brilliant. Everybody knows that if your audio is terrible, you've just lost a ton of viewers. With a couple of taps, you can go from shooting B-roll where you want to narrate from behind the camera back to vlogging mode where you're talking into the camera in front, all while maintaining clear audio. Really, the best part with all these functions is that they're all just a tap away on the ZV-E1's three-inch touchscreen display.
VLOG-FRIENDLY DESIGN
Besides making your shots look cinematic, the ZV-E1 will make sure your footage is even usable in the first place. Its subject tracking was smart enough to keep up with me even when I was moving fast on a skateboard. On top of that, Sony's reliable autofocus felt really focused on whatever subject I was shooting.
I shot a lot of videos just walking around on a trail, and the ZV-E1's in-body five-axis stabilization and Dynamic active mode made the video look a lot less bouncy and more usable. The footage was even more stable when paired with the remote accessory that can act like a selfie stick.
Once you've actually shot the video, the ZV-E1 gives you 10-bit 4:2:2 video and supports a number of color profiles including S-Log3 and S-Cinetone to give you more control when editing. If you don't know what any of this stuff means, that's okay. You don't need to shoot with any of these "pro" features. They're there if you want to take your footage to the next level right out of the gate or later when you upgrade your shooting and editing skills. But you don't need to use them if you're an amateur vlogger.
A SOLID INVESTMENT
While the easily accessible buttons on the main display are a major win, the touchscreen design is sometimes problematic. I've fat-fingered a few of the buttons before since they're so close to each other on a fairly small display. It's also very clear that Sony designed the ZV-E1 with vlogging at the forefront since the 12-megapixel photos are nice but nothing to write home about.
Of course, the ZV-E1's starting price tag of $2,199.99 represents a prohibitive downside. Considering that the full-frame camera costs $2,499.99 when bundled with a 28-60mm f/4-5.6 zoom lens, it's well past the enthusiast cutoff and really meant as an investment for a career vlogger.
Still, vlogging as a one-person team is a massive challenge in itself and Sony wants to make that much more approachable. As someone who has historically shied away from shooting video, the ZV-E1 showed me that it can be fun and simple. Even with my lackluster videography skills, I kept the camera on the Intelligent Auto mode for the most part and the footage still came out great. The ZV-E1's powerful specs and ease of use made me more willing to dabble in video.
If you have some experience as a content creator, I'm positive the ZV-E1 will slot into your vlogging kit nicely. It may not be ideal for someone just dipping their toes into vlogging, but if you're looking to take vlogging more seriously, the ZV-E1 is worth the investment.
Photographs by Jackson Chen