Sony's ZV-E1 Camera Is a Simple Way To Get Serious About Vlogging
Couple a full-frame sensor with easy-to-use AI features and you get the most approachable camera for content creators, the ZV-E1.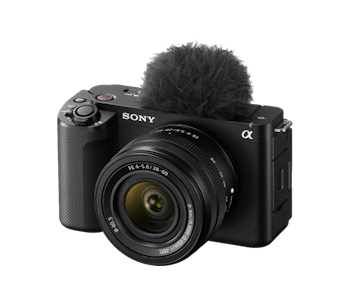 Sony
Everybody's a content creator these days, but not everyone's content is created equal. Sony, for its part, wants to make it a lot easier for anyone trying to take vlogging or content creation more seriously. Its latest compact camera, the ZV-E1 comes out of its ZV lineup that specifically caters to content creators and vloggers. Notably, the ZV-E1 is the first one to offer a full-frame sensor.
Larger sensor aside, Sony packed a ton of easy-to-use features in the ZV-E1 that makes getting into vlogging seem a lot less daunting. This latest compact camera is aimed at those looking to step up their vlogging game, but with a straightforward camera setup that still feels familiar. It's not as high quality as some of Sony's other flagship cameras, but the ZV-E1 certainly beats out recording on a smartphone.
PRO SENSOR, BEGINNER-FRIENDLY
The ZV-E1 uses the same full-frame 12-megapixel sensor as Sony's a7S III and FX3, which are much more expensive options for taking video. The compact ZV-E1 can equally shoot in 4K video at 60 fps in 10-bit 4:2:2 and you can get up to 120 fps when you shoot in 1080p resolution.
You'll get more than 15 stops of dynamic range and a standard ISO range that goes up to 102,400 but can be expanded to 409,600 for both stills and video. The ZV-E1 has five-axis in-body stabilization for steady video, which you can further finetune with the several stabilization options in-camera.
Sony chose not to include an electronic viewfinder with the ZV-E1, so you'll have to view everything through its three-inch LCD touchscreen. You can also set up the camera as a webcam by connecting it to a PC or smartphone.
GETTING IT ON THE FIRST TAKE
Sony wanted to emphasize how easy it is to use the ZV-E1 by including a bunch of AI features that can be activated with a touch of a button. The new AI chip allows for a bunch of new features like multiple face recognition, auto framing, framing stabilizer, and auto microphone. All of these features were designed to make solo vlogging much more manageable. The ZV-E1 even has a real-time tracking feature that automatically keeps focus on the subject and auto framing, which crops the frame to keep the subject as the main focus of the shot.
If you want to add a little dramatic flair to your footage, the ZV-E1 can do that with its S-Cinetone feature. This feature gives your video a cinematic look in-camera and without post-processing, making your b-roll shots look good and easy to shoot.
FLAGSHIP PRICES
Sony is making the ZV-E1 available in black and white colorways in May 2023. If you want just the camera body itself, it'll cost you $2,199.99. Sony is also planning to release a ZV-E1 kit that bundles a 28-60mm F4.5-5.6 zoom lens that will retail for $2,499.99.
It's definitely a steep investment cost, but the full-frame sensor and the AI features warrant the price tag. As more people jump into the world of content creation, Sony is hoping to capture that demographic with its ZV-E1 that's looking to be a go-to pick for many.