The Absolute Best Gear for Shooting Your First Short Film
Everything you'll need, from screenwriting software to lights.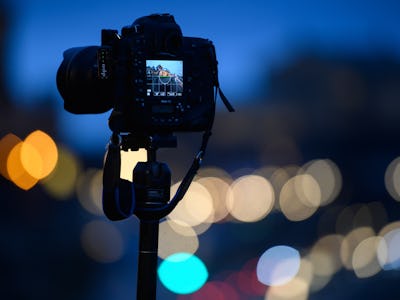 picture alliance/picture alliance/Getty Images
We may receive a portion of sales if you purchase a product through a link in this article.
It's easier than ever to make your own film.
And no, not because you can use generative AI to do it for you. There's a good chance you have the inspiration you need to make something great and at least some of the tools. The real trick, however, is setting aside the time and collecting together gear such as screenwriting software, cameras, and microphones to record your performances.
Luckily, as a film fan and recovering film student, I've done some of that work for you. This guide is by no means meant to be instructional or perfect for everyone. You'll have to experiment and have some idea of how to make a movie, but it should hit on all the components that make a satisfying first short film.
Pre-production
When you sit down to write a screenplay, page 100 problems are often page one problems. You lay the groundwork for your success at the beginning and then build on it. The same goes for filmmaking itself. The pre-production process can cover everything from the initial brainstorming stage, to writing, storyboarding, and even finding locations, but the point throughout is preparing yourself now so you make fewer mistakes later.
Writing is the first part, and it can really start anywhere. The iPhone's Notes app is totally acceptable. Ideas don't become a screenplay, however, until they're put through a word processor. For the most affordable option, screenplay templates exist for both Google Docs and Microsoft Word and are easy enough to find with a web search. But for something a little nicer, there are several excellent options you can choose from, and all of them have trials, so you can use them for free before you pay.
Highland 2 is available to download from the Mac App Store and directly from its developer and is by far the most aesthetically pleasing and flexible of the bunch. Highland 2 is a text editor for Fountain, a Markdown-esque language created for screenwriting. That means you can write in plain text, keeping Fountain's rules in mind, and Highland 2 will automatically format everything to look like a screenplay.
Combined with useful tools like the ability to track stats in your writing, a built-in Pomodoro timer, and Highland 2's general usefulness as a text editor outside of writing screenplays, you get a lot for $50.
With Fade In, you'll get automatic formatting, the ability to track changes, embed images, and even collaborate on a document with someone else at the same time. The app is basically designed to give you everything the industry standard Final Draft can, in a simpler interface, for a far cheaper price. It doesn't look great, but it works.
Final Draft has long been considered the default paid screenwriting software and has become more and more bloated over time since that became the consensus. For a hefty $199.99 purchase (Final Draft charges $99 for a major upgrade after that) you'll get all of the formatting and editing options you could ask for and, critically, the ability to convert script PDFs into usable documents.
For anyone in the market for screenwriting software, the real reason to consider Final Draft (outside its pedigree) is its extensive options for outlining and structuring screenplays. Final Draft includes multiple ways to rearrange virtual index cards representing scenes or sequences in your script to get a better sense of how everything should fit together.
For the other aspects of the pre-production process, like storyboarding or creating a shot list, the best solution will depend on how in-depth you need to go. Canva offers totally functional and free storyboard templates that make it easy to slot in photos and text to pull together a quick and dirty storyboard. If you have an iPad, Apple Pencil, and GoodNotes you can hand draw your own that way too. If you're willing to manage the learning curve, there is one app that can theoretically do it all, with some caveats.
Scrivener is most often thought of as software for writing novels, but it can accommodate just about any kind of writing and all their attending file formats. Critical to turning out a short film, scripts written in Scrivener can be exported in Final Draft format if you're working with collaborators, and the app's digital Corkboard works well enough for laying out image and text that it can be a storyboard in a pinch. The app is by no means simple to set up or use, but it can quickly become a tool you come back to for a variety of different projects.
Production
So you've got your script, storyboard, shot list, and some idea of where you might like to shoot. Your next main concerns once production starts are capturing footage, making sure it's lit well enough that you can use it, and recording audio clearly.
Cameras
By and large, cameras will be the most expensive part of the entire production process. You can shoot on your phone — plenty of filmmakers have — but don't make the decision lightly. Given the limited storage, focal lengths, and battery life a phone affords you, you'll want to think about lens attachments, some kind of workflow for getting footage off the phone, and a way to keep it charged. The simpler, albeit more expensive, option is to buy a camera.
Sony's ZV-E10 is referred to as a "vlogging camera" (a shocking number of very professional-looking cameras are), but it'll get the job done, and you can buy it in a package with a lens and microphone to really hit the ground running. There's an articulating flip-out screen so you can always have eyes on what you're shooting, and it records footage in 4K at 30fps which should be more than enough.
Canon's EOS R7 is a hefty camera with the ability to shoot 4K footage at up to 60 fps, respectably fast autofocus if you need it, and access to Canon's wide selection of lenses, which I've found to be the easiest to buy used.
It'll cost you, but the R6 Mark II's larger sensor means even better low-light performance to go with its in-body image stabilization and ability to record 4K footage at up to 60 fps. There's even a flip-out touchscreen so you can adjust focus with a tap and get a good look at what you're shooting.
Audio Equipment
For audio, you're not going to rely on what you can get from your camera alone. Having a dedicated audio recorder to connect a boom or additional mics too will be a big help.
The H5 can record four tracks of audio simultaneously, two through its interchangeable top capsule and two through the XLR inputs at the bottom of the recorder, which also offer phantom power for powering the microphones attached to them. The recorder itself may be enough to capture audio in stationary scenes, but you might want to consider a directional recording option for more complicated shoots.
And that's where Rode's NTG5 Condenser microphone could come in handy. This kit comes with a mount so you can easily hold the mic in your hand, detach it and mount it on a boom pole, or tape it to a surface and record to your heart's content.
Lighting
The simplest way to get a bit more control of the natural light in a space is with a reflector or diffuser. This also happens to be the cheapest way to do that, too, provided you have a free pair of hands to hold them.
Neewer's reflector and diffuser fold up together in the same zip-up bag and are finished in silver, gold, black, white, and translucent finishes depending on how reflective, warm, cool, or diffuse you need the light in a scene in a given moment.
LED light panels offer the cheapest and lightest weight way to light a scene. The advantage of NiceVeedi's kit is that it comes with two panels, multiple filters, and two adjustable tripods so you can post up your lights wherever you need for less than $100.
Post-production
With footage in hand, you can get to editing and finally putting everything you've captured together. For the simplest approach, doing everything in a dedicated NLE (non-linear editor) should cover all of your basic audio mixing, film editing, coloring, and effects needs. If you're looking for more granular and powerful editing options, standalone software for audio editing and effects are also worth considering.
DaVinci Resolve is still probably best known as film coloring software, but it can actually meet all of your post-production needs for free if you're willing to try. Resolve can edit footage, mix audio, color footage, and create effects once you learn the tools. It also recently received an iPad version that has a good portion of the editing and coloring features that the desktop version has.
I wouldn't recommend subscribing to Adobe Creative Cloud or Premiere Pro specifically unless you really think you'll use it outside of this project, but it's the industry standard for a reason. Premiere itself can handle any file format you throw at it, layer on rudimentary effects, and let you edit your audio, but when you consider Adobe's vast array of other software that can hook directly into Premiere, it becomes even more compelling.
Audacity is everyone's first audio production software and for good reason; it's free and it's pretty capable once you get over how it looks. You can record directly into it if you're working on sound design for your film, import your audio clips to make sure everything is sounding right, or hook up a vast array of plug-ins for more functionality. It's surprisingly flexible considering how janky it seems.