Canon's Pocket-Sized Camera Takes Your Smartphone Vlogs to the Next Level
The compact design of the PowerShot V10 fits in your pocket.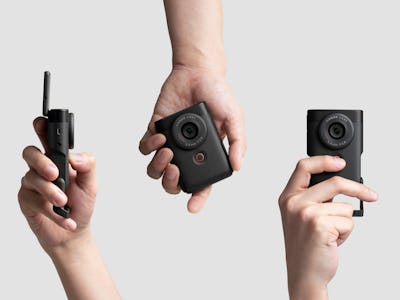 Canon
Getting into vlogging is as easy as ever with all these purpose-built cameras and powerful smartphones. If you're just getting started with vlogging and want something more tailored than a smartphone, Canon's PowerShot V10 is what you're looking for. With the PowerShot V10, Canon designed a minimalistic vlogging cam that's simple like a smartphone but has a larger sensor for better-quality video.
The PowerShot V10 will be the first of Canon's latest consumer video production, live streaming, and vlogging lineup that falls under the PowerShot V branding. Canon is starting with an accessible option with the PowerShot V10, so it's not really meant for the career vlogger, but rather for someone who wants to start experimenting with vlogging. Its compact and simple design does make for a great second-angle camera for those with more experience, however.
JUST HIT RECORD
Canon's PowerShot V10 has a form factor that's reminiscent of Insta360's action cameras. It's a straightforward design with a record button on the front and a flip-out screen that comes from behind. Canon emphasized how easy it is to use since it includes 14 color filters, a Smooth Skin mode, and a Movie Digital IS mode that reduces camera shake when recording handheld video.
With a one-inch CMOS sensor, the PowerShot V10 can offer much better low-light performance than most smartphone sensors. Canon's compact vlogging cam shoots in 4K30p or in FullHD at 60p, and can even snap 15.2-megapixel stills. The 19mm wide lens means it shouldn't be too hard to fit everything in the frame when you're vlogging. Even if it does, the PowerShot V10 has face-tracking autofocus that will keep you defined.
The PowerShot V10 weighs less than half a pound and can easily be shoved into a pocket or purse. When you shoot with it, you can record with it horizontally or vertically, making it easy to transfer clips to social media. Canon says it'll get up to an hour of continuous video recording.
If you're not vlogging while you're out and about, the PowerShot V10 also can be configured as a webcam for live streaming. It's built with two stereo mics for clear audio, along with a third mic meant to reduce background noise.
START CREATING CONTENT
The PowerShot V10, available in black and silver, is already up for preorder at Canon's website for $429.99. Canon says the vlogging cam will start shipping in mid-June.
With so many content creators these days, it makes sense for Canon to start making cameras catering to that crowd. While not a full-on vlogging camera, the PowerShot V10 serves as a nice middle ground for those who want to upgrade from vlogging on their smartphone, but aren't ready to commit to a more expensive camera.