Are the Cameras in iPhones and Samsung Galaxy Phones Falling Behind?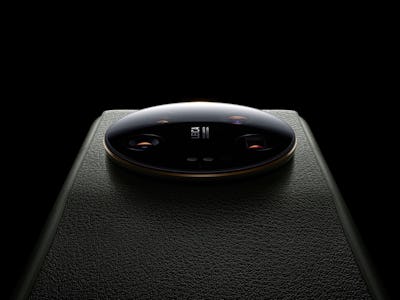 Xiaomi
Smartphones used to be phones with a camera thrown in. These days, smartphones are more like cameras with a side of phone.
Don't believe me? Go back and watch any iPhone or Galaxy phone launch from the past several years and you will find that Apple and Samsung devote a majority of their keynotes to talking about improvements made to the cameras.
Apple boasted about its 48-megapixel sensor and Photonic Engine for the iPhone 14 Pro. Samsung touted a higher-resolution 200-megapixel camera and continued to talk up the superiority of its telephoto lenses (the Galaxy S23 Ultra is capable of a 100x zoom versus the iPhone 14 Pro's 15x digital zoom). Compared to phones from five and 10 years ago, the images from Apple and Samsung's latest flagships couldn't be better in terms of quality, resolution, color, and low-light performance.
And while I can recommend both the iPhone 14 Pro and Galaxy S23 Ultra for their cameras, I know that, objectively, they are not the best camera phones. Yes, yes, the best camera is the camera that's always with you, whatever that camera (or phone) that is, but companies like Xiaomi and Oppo have really shown that there is so much more we should demand from Apple and Samsung phones.
Big Camera Bump, Big Sensors
It's funny to think back to when we all thought the iPhone X's dual-lens oval was big. It's tiny compared to the massive triple-lens camera bump on the iPhone 14 Pros. But now that big camera bumps are the norm on phones, phone makers might as well lean into them with larger sensors and better lenses.
That's exactly what Xiaomi and Oppo are doing. For example, look at the Xiaomi 13 Ultra that was just announced this week. The circular camera "bump" (a term that no longer seems accurate) occupies over a third of the phone's rear, with the top portion being thicker than the rest to accommodate it. Rather than try to reduce the camera bump's hugeness, Xiaomi embraces it.
The Xiaomi 13 Ultra's camera bump isn't just for aesthetics or to fit the Leica branding in its center, it's to fit four camera lenses. The main 50-megapixel lens uses a massive one-inch Sony IMX989 sensor and has a variable aperture that can open from f/1.9 to f/4.0. The other three lenses are also 50 megapixels each: a 12mm ultra-wide with f/1.8, a 75mm telephoto with f/1.8, and a 120mm telephoto with f/3.0.
In comparison, the S23 Ultra uses a higher-resolution 200-megapixel main lens with a smaller 1/1.3-inch sensor, 10-megapixel sensors for both telephoto lenses, and a 12-megapixel sensor for the ultra-wide. The iPhone 14 Pro Max has a 48-megapixel main lens paired with an even smaller 1/2.8-inch sensor, and 12-megapixel sensors for the telephoto and ultra-wide.
It's just no contest. Xiaomi's camera sensor is as large as the kind you find in point-and-shoots like Sony's $1,300 RX100 VII. And if you know anything about camera sensors, you know the axiom that larger sensors produce better images in low light. Larger sensors also tend to create more natural-looking depth of field, especially for close-up shots.
I have not personally tested the Xiaomi 13 Ultra, but like any tech geek, I've been watching YouTube videos with in-depth comparisons and reading hands-on and review articles about the camera and the consensus seems to be that the camera is excellent — a big leap over the cameras in Apple and Samsung's phones.
It's not just Xiaomi's phones. Oppo, the sibling brand to OnePlus, recently released the Find X6 Pro. Like the Xiaomi 13 Ultra, the Find X6 Pro is a camera beast. It's got three 50-megapixel lenses (main, ultra-wide, and telephoto) with the main lens also using a one-inch sensor.
Tech influencer Ben Geskin does some fantastic camera comparisons on his Twitter account, and Oppo and Xiaomi phones repeatedly come out on top when compared to the latest iPhone or Samsung Galaxy. Everything from sharpness to color reproduction to bokeh look better in Xiaomi and Oppo photos. Photos from an iPhone and Galaxy still look good, but in side-by-side comparisons, it's clear they're deficient in many ways.
Google may have pioneered computational photography with its Pixel phones and led on that front for a few years, but we've hit a ceiling. Whether it's a distaste for the way a phone processes images, backlash against AI processing, or a desire to have portrait photos with real depth of the field that isn't simulated, phone makers and customers are realizing that there's no replacement for superior optical hardware. Basically, it's hard to beat physics, silly. More glass elements and larger sensors simply produce better images. There's a reason why despite small mirrorless cameras like the Micro Four Thirds format having great intentions to shrink down DSLRs, APS-C and full-frame cameras like Sony's Alpha series continue to sell extremely well despite their ever-increasing body sizes and large interchangeable lenses.
Does It Matter?
Tech fans and gadget bloggers and YouTubers will pore over the details of every new phone camera to create comparison content. I'm guilty of this. Hell, I pioneered the modern-day camera comparison before anyone was obsessive enough to do them and built my career and following with exhaustive phone camera shootouts in my phone reviews. See here, here, here, here, and here (to name a few).
But the regular consumer doesn't care if there are phones with better cameras that take better pictures. Even if they look at video after video, and read a dozen reviews, a Xiaomi or Oppo is not an iPhone or Galaxy. Even if the phones were available to purchase in the U.S. or Europe, the strength of an iPhone or Galaxy goes beyond its camera. Apple has its ecosystem of Apple services like iMessage, FaceTime, and AirDrop. Samsung... well, it's just there as the most widely available alternative. Credit where credit's due, One UI is pretty good in my opinion.
If image quality alone or resolution or zoom capability truly mattered, Apple and Samsung would be in big trouble right now. They're good quantitative ways to measure differences between phone cameras, but at the end of the day, pictures are good enough on almost any phone that even if the differences are major, brand allegiance and loyalty trump all.
I'm saddened spelling all of this out, because competition helps breed better products. And Apple and Samsung really need to have a fire lit underneath them. They're sitting comfy on top of the throne and consumers are worse off for it.