Samsung's Galaxy S23 Ultra is Gunning for the Smartphone Camera Crown
After all these years and smartphone generations, cameras are still the battleground for smartphone supremacy.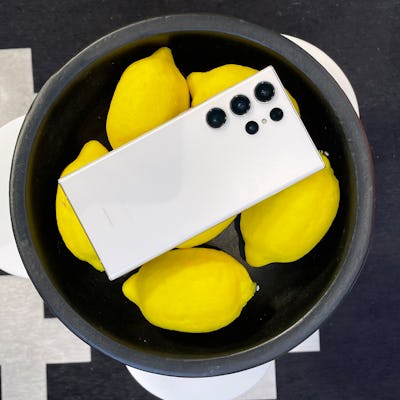 Ashley Oh / Inverse
Generation after smartphone generation, tech companies are tasked with devising new ways to command your wallet's attention.
And while there's usually plenty to pore over in each new device, there's still one main arena where smartphone wars are won and lost: cameras.
Take, for example, Samsung's Galaxy S23 Ultra — its new flagship and leader of the Galaxy pack. There are plenty of new bells and whistles — Qualcomm's new Snapdragon chip, ray tracing, and longer battery life — but it's clear Samsung focused most of its efforts this year on materially elevating smartphone photography. The big-ticket item on that front is Samsung's 200-megapixel sensor on the back-facing camera, which is joined by two telephoto lenses, and a 12-megapixel ultrawide sensor.
It's, of course, impossible to hand out accolades before we've fully tested the S23 Ultra and its cameras for ourselves, but just on paper, Samsung clearly still has a few tricks up its sleeve to make a new generation of Galaxy devices worth considering.
Software-to-hardware ratio
Like any smartphone worth its weight in bulbous camera notches, the Galaxy S23 Ultra's system will also lean on both hardware and software to make its case to consumers looking for the best camera.
This year, increased pixel binning on the S23 Ultra will aid in capturing more detailed photos. Theoretically (again, we haven't gotten to dig into our Galaxy S23 testing yet) this year's Ultra, with beefed-up pixel binning, should produce images with less noise and make the camera more capable in low light.
A new image signal processing algorithm will also help render images taken in low light and help render more accurate color tones. That means, if all goes according to plan, Ultra users should expect clearer, brighter nighttime shots as a result (especially when coupled with improved image stabilization).
And while the front-facing selfie camera is getting a downgrade in the megapixel department, the whole Galaxy S23 series — including the Ultra — will come with Samsung's first Super HDR selfie camera, which has faster autofocus and is capable of up to 60fps video.
This is 2023 and marrying hardware and software is already a tired and true part of winning the smartphone photography game, but even if the strategy is ho-hum, the Ultra feels like a solid step forward.
The little things are big
In a lot of respects, smartphone cameras are a bit like professional sports, where seemingly small advantages tend to make all the difference between winners and losers.
Sometimes, for consumers, it can come down to preference. Do you like the way Apple's brand of computational photography processes an image, or do you prefer Samsung? Maybe you don't care about megapixels and would prefer Google's AI to do all the heavy lifting.
Samsung's take on camera superiority is clear: more is better, whether that's sensors, megapixels, or AI competency. And even if you're lukewarm on pixel binning or beefed-up image processing, a 200-megapixel sensor is a step worth noting, especially if you hate camera bumps. Per Samsung:
The ISOCELL HP2 packs 200-million 0.6-micrometer (μm) pixels in a 1/1.3" optical format, a sensor size that is widely used in 108MP main smartphone cameras. This enables consumers to enjoy even higher resolutions in the latest high-end smartphones without larger camera bumps in their devices.
Samsung isn't the first company to put a 200-megapixel sensor in a smartphone — Motorola earned that title — but its ability to back up sensor technology with all that augmentative software makes it feel like the first.
It's hard to say what the future of smartphone cameras has in store — at what point (if ever) does AI fail to push image quality past the limitations of using a tiny piece of glass to capture pictures at a professional level?
For now, we just have to take progress when we see it, and if you're itching for The Next Thing, Samsung's Galaxy S23 Ultra is impossible to ignore.