Sony's ZV-1 II Camera Is a More Affordable Way To Make Pro-Looking Vlogs
Sony's mid-range vlogging cam adds a little more polish to your vlogs.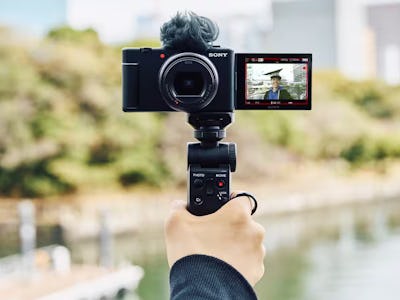 Sony
Your smartphone may be able to get some acceptable vlogging footage, but if you're getting serious about content creation, sometimes an iPhone just won't do. That's why Sony is introducing its mid-range vlogging camera, the ZV-1 II, which is purpose-built for capturing great content.
The ZV-1 II is still a vlogging-centric camera like its predecessor, but it's been upgraded with a wider lens and a button that adds a cinematic touch to all your footage. The ZV-1 II feels much like Sony's recently-released ZV-E1, just that it lacks a full-frame sensor and swappable lenses. Coming just off the heels of the flagship ZV-E1 release, it feels like Sony is getting serious about capturing the content creator demographic. With the ZV-1 II, Sony is looking to target those looking for a middle-ground option.
WIDER SHOTS
Sony built the ZV-1 II with its Exmor RS image sensor that's paired with a fixed lens that zooms from 18 to 50 mm and has an aperture range from f/1.8 to f/4.0. The ZV-1 II's wider lens makes a lot more sense for content creators compared to the first generation's 24-70mm lens. Whether you're shooting selfie-style vlogs or streaming, the wider lens does a better job of keeping you and your background in the shot.
The ZV-1 II records up to 4K30p video or Full HD up to 120p, but can also snap 20.1-megapixel stills. Sony even added the Cinematic Vlog setting that we first saw with the ZV-E1 that gives all your footage a professional look by dropping it to 24 fps and a 2.35:1 aspect ratio. The ZV-1 II brings back some convenient buttons like the Background Defocus and Product Showcase features that can make for tailored footage with the touch of a button.
The ZV-1 II still packs the AI features that make Sony's cameras stand out. The Multiple Face Recognition and Face Priority AE features ensure that the footage you're shooting is actually usable by keeping the subjects in the frame and in focus. You can also adjust the look of your footage with some built-in filters via the Creative Look buttons. Of course, the vlogging cam has an articulating screen so you can see what the shot looks like while filming selfie videos. For the ports, Sony included a USB-C port, an SD card slot, and headphone and mic jacks.
MADE FOR MOST OF US
Sony just announced the ZV-1 II on its website, which starts at $899.99 and will start shipping in June. That's a $150 bump up from the ZV-1's starting price, but it does offer up some crucial upgrades from the previous model.
That price is still a sizable investment to get started with vlogging, but it's much more affordable than Sony's other recently-released vlogging camera, the ZV-E1 that starts at $2,199.99. Since the ZV-1 II is cheaper, it lacks some of the higher-end features like filming in 4k60p, in-camera image stabilization, and the ability to swap lenses. If you don't mind foregoing all that, the ZV-1 II is a great alternative for those looking to get more serious about vlogging, but not break the bank.