Sony's New Camera Uses Lasers to Make Photography More Accessible
Photography is tricky to make accessible, but at least Sony is trying with its latest camera bundle.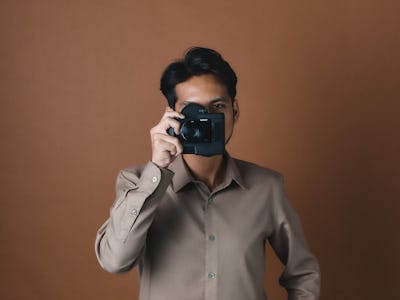 Sony
Viewfinders on digital cameras may have gotten bigger and brighter in recent years, but they're still a pain for those with visual impairments. It's hard to make cameras more accessible, but Sony's latest camera bundle is designed specifically for visually-impaired photographers.
Sony's DSC-HX99RNV kit combines one of its compact point-and-shoot cameras with QD Laser's Retissa Neoviewer, a viewfinder that projects a low-power laser image onto the retina. It's designed for those who have trouble seeing the image in the camera's viewfinder, due to shortsightedness, farsightedness, astigmatism, or any other vision impairment.
It's not the first time that Sony has tried to make its cameras more accessible. With its a7 IV mirrorless camera, Sony included screen reader technology where the camera reads out its menus. The company is also trying to address the stigma with hearing aids by making a more accessible and stylish version.
LASER VISION
As for the DSC-HX99RNV, Sony has designed a mashup between two independent products. Sony takes its DSC-HX99 compact camera that was released in 2018 and fits it out with the Retissa Neoviewer. The camera itself offers an 18-megapixel sensor that gives you every type of shot from wide-angle at 24mm to super-telephoto at 720mm.
Once you lined up your shot, the Neoviewer takes the digital image from the camera and projects it directly to the photographer's eye. You'll get a 720p resolution image in a 16:9 aspect ratio, with 60 degrees of horizontal field-of-view, an 8-bit full-color range, and a 60Hz refresh rate. The Retissa Neoviewer's battery lasts four hours, but you can fully recharge it in three hours.
So far, the Retissa Neoviewer is only compatible with Sony's DSC-DX99. It would be great if Sony could expand on this technology and offer a modal option where photographers using the Retissa Neoviewer could attach it to any other Sony camera.
FOOTING PART OF THE BILL
Alone, the HX99 itself costs about $475, but Sony is keeping the DSC-HX99RNV at a retail price of $600 for any interested customers. Sony says it's subsidizing the cost of its accessible camera with the goal of allowing more people to access to it.
Sony says the DSC-HX99RNV might not work for everyone with low vision, so it says you should try it out before buying. Otherwise, the kit will be sold in limited quantities in the U.S. at Sony's website, starting in early summer 2023.