Nissan's Electric Hatchback Concept Brings Racing Sims to Life
Too bad it's just a concept.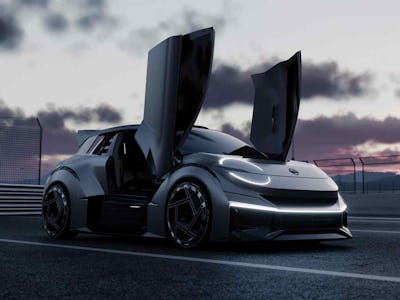 Nissan
A hot hatchback will never go out of style. Nissan revealed its latest all-electric concept in London, the Concept 20-23. The sporty three-door hatchback celebrates the 20th anniversary of its Nissan Design Europe team and features an eye-catching design that's inspired by online racing simulators and Formula E.
Instead of Nissan's other EV concepts that were purpose-built like the performance-oriented Max-Out and the lounge-style Chill-Out, the Concept 20-23 looks much closer to something we would already see on the streets.
DESIGNED FOR RACING
As a sporty urban EV, it comes with the typical boy racer stylings of deep side skirts, large rear spoiler, and extended wheel arches to fit the large, low-profile tires. The exterior design was tweaked for the sake of aerodynamics, even swapping out the traditional side mirrors for a much less obtrusive design. The Concept 20-23 even has scissor doors that hinge upwards when opened because what's a concept car without some funky doors.
Even though the Nissan Design Europe team focused on the exterior for the concept, it still built out the interiors to match. Much like modded cars, the Concept 20-23's interiors were designed with racing in mind. There's no room for fancy modern luxuries like a passenger-side screen that can play video games or ultra-wide displays that stretch across the entire dashboard. Instead, Nissan included space for a fire extinguisher and a couple screens that only display the most relevant driving info.
HIGHLY EXPERIMENTAL
Considering the conceptual nature, there's a slim chance that Nissan releases something like this. However, we could see the automaker incorporate some of the Concept 20-23's design into its future EVs. Nissan is still lagging behind other automakers when it comes to putting out EVs, but so far, we're liking what we see from its EV concepts.