GM's Electric Sedan Concept Takes a Page From Mercedes-Benz With Gullwing Doors
It's just a concept for now, though.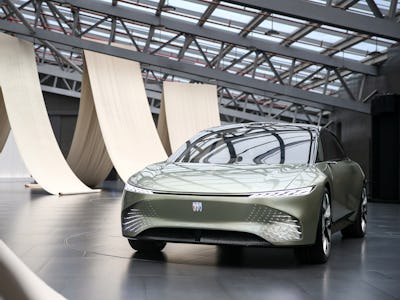 GM
This isn't your grandparent's sedan. GM revealed an all-electric sedan concept that looks extremely sleek with gullwing doors and modern EV styling. The conceptual design comes from GM China's Advanced Design Center in Shanghai, which has dubbed the flagship sedan the Proxima.
Before we get your hopes up, not only is it only a concept at the moment, GM says it's "tailored for China's technology-centric market." For anyone stateside, that means something as cool as the Proxima may have a hard time making it to the home market. Still, that doesn't mean we can't look on in awe at the eye-catching design that GM's global divisions have cooking.
JUST A CONCEPT
From what we can see, the all-electric flagship sedan will have gullwing doors, a lack of a B pillar, fancy EV lighting at the front, and surprisingly, Buick badging. Inside, the Proxima looks to have an extra-roomy interior, likely going for the living room vibe that most EV makers, like Kia or Volkswagen, are designing these days.
For GM, the Proxima really sets the tone for what the American automaker wants to do with future EVs. GM is planning to invest $35 million into electrifying its portfolio, with a goal to sell a million EVs by 2025 and go completely electric by 2035. To that end, we may not see the exact translation of the Proxima concept as a road-legal EV, but it's possible that GM uses some design cues for a future car. After all, the DeLorean doesn't have to be the only EV in the works with gullwing doors.
BUILDING HYPE
It's a big question mark on if the Proxima would ever make it to the U.S., considering Buick's first EV called the Electra E5 SUV will be sold in China. The Proxima was only shown off as a concept, and even more so, it was designed by GM's Shanghai-based studio.
GM China's Advanced Design Center says it's working on multiple projects for the carmaker's global brands. On top of that, Michael Simcoe, senior vice president of GM Global Design, said in a press release that the Shanghai-based design studio serves as a "leading tastemaker for GM's future products." This all sounds promising, but we're really hoping that the Proxima isn't just another reminder of the EVs we can't have in the U.S.