How the Light Bar Became EVs' Most Unlikely Status Symbol
If electric vehicles are the future, they need to look like it, too.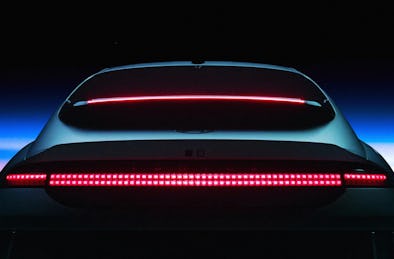 Lais Borges/Inverse; Hyundai
Electric vehicles are the future. That's not an opinion at this point, it's a quantifiable fact. Just ask GM or Volkswagen, both of which have committed not only to making lots of new EVs, but to electrifying their entire lineup of cars over the next several years — a quest, for the record, that they're off to a surprisingly good start on.
And the future though EVs may be, a monumental shift in the way people commute from one place to another can't just sound like the future — rhetoric, marketing, and even cold hard production numbers only get you so far. To fit that futuristic bill, EVs have to look the part, too.
Enter: the light bar.
Beam Us Up
The light bar, for those uninitiated to our new era of EV design language, is the modern take on traditional headlights or taillights. Instead of the more pedestrian dual-light setup — a pair of bug eyes fixed on the front or back of your car — the light bar is, well, a bar.
If you've been paying attention to almost any modern EV you've almost certainly seen the light bar's aesthetic impact in action.
In Ford's F-150 Lightning pickup, a thick, prominent light bar forms a glowing bracket on the truck's grille. On Rivian's R1S, light bars sandwich the EV, making appearances on both the front and rear of its electric SUV. On Hyundai's popular Ioniq 5 electric SUV, a grid-like light bar on the car's rear hammers down the EVs almost-cyberpunk appeal — not dissimilar to the overall look of the Hummer's EV's grille-adjoining contribution to the light bar trend. The list goes on.
On one hand, slapping solid-strip LED lights to the front of a vehicle is a subtle change, and on the other, the light bar has rapidly come to signify that the old design language of yesteryear's gas guzzlers has gone the way of the dinosaur. It's a fairly simple design cue, but also automakers' way of beaming their high-wattage message straight into your eyeballs. And that message, of course, is "welcome the future."
New Once More
The story of the light bar is one that's equally about technology and design, and its popularity among EVs in particular isn't an accident — it's a product of the disparate engineering between traditional combustion engine cars and those with batteries and electric motors. It's a product of the grille.
Let me explain: Traditionally, the grille of a car was both a practical component and an opportunity for a bit of marketing. On the former front, a grille allows air intake into the engine to keep it from overheating. And on the latter, it also was an opportunity to emblazon cars with the manufacturer's emblem — a subtle, but important, design gesture.
EVs, however, lack an internal combustion engine and therefore don't technically need a grille. So what happens when you shed the need for air intake? Well, you open up that real estate for a different kind of design opportunity — one that's both practical and aesthetically significant. You give the light bar its place to (literally) shine. And shine it has.
Though the ultimate reception of the light bar among drivers and auto hobbyists is subjective — everyone has their own design sensibilities — it's worth noting that some of the vehicles that slap LED strips to their vehicles have been among the most well-received.
Hyundai's Ioniq 5 SUV, for example (which in my opinion has completely crushed the template for a future-forward accessible EV both in terms of pricing and look) has seen very healthy demand. In February, Hyundai revealed that the cyberpunk-esque SUV had seen a 57 percent year-over-year uptick in sales.
It's hard to attribute high demand for Ford's F-150 Lightning to fancy headlights — the F-150 is still the most popular truck in the United States after all — but just stop and consider for a moment that the little old light bar just happened to show up as one of the Lightning's most prominent new design elements. Accident? I think not.
And yes the light bar might be in vogue as the newfound status symbol of a shift from gas cars to battery-powered electric ones, but its roots stretch back decades. Cars like the Mercury Sable (1986 - '95) might not have had the high-powered LED strips we see in EVs, but they did attempt to create the same aesthetic vision with prominent wraparound headlights.
And for older cars, taillights were an even easier arena to go big and bar-like. Take Honda's NSX from the '90s with its futuristic candy-red bar, or similarly, the 1991 Dodge Stealth. Heck, even Toyota's egg-like Previa minivan got in on the rear light bar action. From the 1990s alone there are almost too many bar-like taillights to count.
In a lot of ways, it's a story as old as time: what was old is new again. But the popularity of light bars is also a pointed look inside the mind of automakers trying to define a new era for battery electric vehicles. As deadset as many automakers are on making electric cars the future, we're not there yet, and because of that, driving an EV (at least in North America) is a statement.
For Tesla, that statement comes in the form of disciplined minimalism, big, chonkin' infotainment screens, and whatever the hell is going on with the Cybertruck. But for many others, there's a simple, but effective way to get you to see the bright side of electric vehicles, and like it or loathe it, the light bar ain't goin' anywhere soon.