Tech
The electric DeLorean reboot is a gull-winged Tesla competitor
It still doesn't actually time travel, but the DeLorean Alpha V is a huge upgrade from the original gas-powered car from 1981.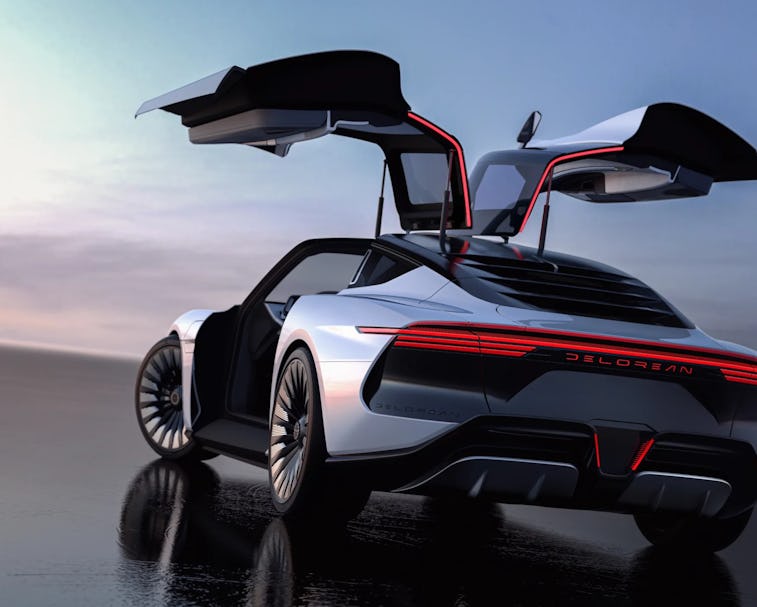 It still doesn't time travel, but the DeLorean Alpha5 only needs a fraction of a gigawatt to run. The DeLorean Motor Company gave a first look at its Alpha5 electric vehicle, a modern electrified sports car — an obvious throwback to the original DeLorean and its iconic gull-wing doors.
We knew an updated DeLorean was coming since early 2021 after the owner of the DeLorean Motor Company, Stephen Wynne, said in a January blog post that the company would raise capital for an electric vehicle. The original DeLorean company had a pretty rocky history and eventually went bankrupt in 1982. Luckily, Wynne formed the new DeLorean Motor Company and acquired the trademark of the original company behind the fan-favorite vehicle from the Back to the Future franchise.
0 to 88mph — For this next-gen DeLorean, the company partnered with Italdesign, who worked on the original DMC DeLorean and other prominent car brands including Maserati, Fiat and Volkswagen. The Alpha5 definitely offers a more modern look compared to the old-school DeLorean, but it still keeps those unmistakable gull-wing doors.
According to DeLorean, the base performance model of the Alpha V tops out at 155 mph and can get from 0 to 60 mph in an estimated 2.99 seconds. Of course, the company also included a 0 to 88mph, which the EV clocks in at an estimated 4.35 seconds.
Instead of 1.21 gigawatts, the Alpha V runs on a 100kWh battery that will offer a more than 300-mile range. These specs are just estimates and not official yet, but given that it's a base performance model, it looks like DeLorean wants to be competitive with the likes of Tesla's Model S.
The launch edition of the DeLorean Alpha5 comes in red.DeLorean
Launching this summer — Beyond the base model, DeLorean released some photos of a launch edition in red, but no information on the differences between the two models. The company is planning the official reveal of the Alpha V for August 18, which will then be on display at Pebble Beach starting August 21.
Watch: Extreme Reviews