Hyundai's High-Performance Ioniq 5 N EV Comes With Fake Engine Noise
The Ioniq 5 N debuted at the Goodwood Festival of Speed.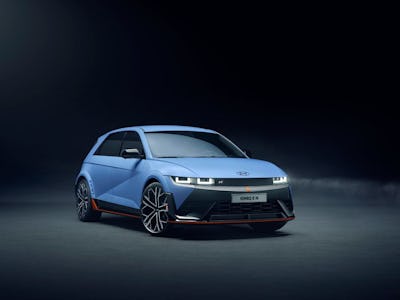 Hyundai
Hyundai's latest EV is meant for tearing it up on the track, complete with fake engine noises and mock gear shifting. Hyundai finally debuted its Ioniq 5 N at the Goodwood Festival of Speed, showing off an upgraded Ioniq 5 that includes a ton of race-oriented features like launch control, drive modes, and a boost button.
Hyundai added also added its N Active Sound+ And N e-shift features that generate fake engine noises and simulate eight-speed dual-clutch transmission. The 10-speaker system mimics ignition, cornering, and acceleration noises, while the mock transmission creates a jolt in between shifts. Hyundai says it's for more driver feedback, even if it's a little unnecessary in an EV.
Toyota is also exploring the same kind of simulation for its future EVs, and Dodge incorporated it into its conceptual muscle car.
BOOST ACTIVATED
The Ioniq 5 N will top out at 260 km/h, or around 161 mph. Hyundai put in two electric motors, giving the souped-up Ioniq 5 a max output of 448 kW, or around 600 horsepower. With the N Grin Boost activated, the Ioniq 5 N goes from 0 to 62 mph in 3.4 seconds and is boosted to 478 kW or 641 horsepower for 10 seconds.
Hyundai didn't put out range numbers for the Ioniq 5 N yet, but says it can charge from 10 to 80 percent in 18 minutes charging at 350 kW. The Ioniq 5 N has a larger 84 kWH battery, which could translate to a longer range than the standard Ioniq 5 models that get up to an EPA-estimated 303 mile-range.
DESIGNED FOR THE TRACK
Beyond the upgraded specs, Hyundai included a ton of features in the Ioniq 5 N to make track day more enjoyable. The N Battery Pre-conditioning lets you choose between Drag of Track modes and will optimize the battery's temperature accordingly. The N Race feature lets you further adjust the Ioniq 5 N's performance with a choice between Endurance or Sprint modes. There's even N Launch Control that adjusts the EV's traction levels for the fastest possible start.
Hyundai updated the Ioniq 5's exterior with a wing-type spoiler at the back and lowered the Ioniq 5 N 20 millimeters. The Ioniq 5 N is also wider to fit its Pirelli P-Zero tires and longer to accommodate a larger diffuser.
The interior is designed to match the Ioniq 5 N's track-oriented design since it has a center console with knee pads, shin support, and a sliding armrest. It's still fine as a daily driver though since it offers USB-C chargers, a wireless charger, and cupholders. It even features Hyundai's Vehicle-to-Load charging which lets you charge things like an e-bike, camping gear, or appliances even if it's turned off.
DETAILS COMING
The Ioniq 5 N may have made its debut, but we still don't have any release dates or pricing yet. Hyundai says it will announce range estimates when it launches the Ioniq 5 N, which is likely when we'll get more precise details. Considering the most expensive Ioniq 5 trim starts at $52,600, we're expecting this racing-oriented version to cost substantially more.