The 5 Most Luxurious EVs Money Can Buy
EVs aren't just about going green — they're about spending it, too.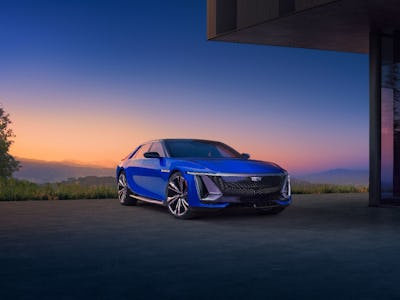 Cadillac Celestiq EV
Electric cars aren't just for the eco-conscious anymore. Sometimes they're big; sometimes they're futuristic; sometimes they're even fancy. In fact, sometimes they're really fancy.
And yes, you may not ever make Elon Musk money, but just ogling luxurious cars is a pastime in and of itself — and man, are there a lot ogle. It's not just Tesla's game anymore, either. Tried and true luxury brands like Cadillac and Rolls-Royce also have their say in the future of electric EV luxury.
If you can't help but fantasize about electric cars that can put a kid through private school, we've got just what you need.
Rolls-Royce Spectre ($420,000)
Can "luxury" and "cars" even exist in the same thought without mentioning Rolls-Royce?
Up until recently, Rolls-Royce has stayed out of the EV game, but the Spectre changed that for good. At $420,000 the Spectre EV offers the same luxury you'd expect from pretty much any car carrying the Rolls-Royce name, but with some modern perks like regenerative braking and a heads-up display.
Sure, you won't get the most range or the most power out of the Spectre, but this is a luxury-mobile — I doubt it will matter much to the driver you'll presumably pay to chauffeur you around.
Lucid Air Sapphire ($249,000)
Luxury isn't always about couch-like interiors and back massagers — sometimes you pay for performance.
That's especially true in the case of Lucid's Air Sapphire which boasts rocket ship-like acceleration that makes Tesla's Model S Plaid look tepid.
The Air Sapphire isn't out yet, but according to Lucid, it accelerates from 0 to 60 mph in just 1.89 seconds and has a top speed of 205 mph. Range is also being targeted for the upper echelon, with Lucid projecting the Air Sapphire will hit 427 miles on a single charge. Lucid is no stranger to high-range vehicles, so we're inclined to believe those projections.
Unsurprisingly big-time performance comes with a big price tag. Lucid is starting the Air Sapphire at $249,000. But what's a quarter-of-a-mil for one of the fastest EVs you can buy?
Cadillac Celestiq ($340,000)
While Tesla is hard at work trying to craft a much-needed $25,000 EV, Cadillac is off occupying the polar end of the spectrum with futuristic electric cars like the Celestiq.
The Celestiq will be the first of GM's EVs to take advantage of Ultra Cruise, which according to the automaker, enables drivers to take advantage of hands-free driving in 95 percent of all driving scenarios. It's no slouch either: Cadillac says the Celestiq will get an estimated 600 horsepower and 640 lb-ft of torque, so it can go from 0 to 60 mph in 3.8 seconds.
Cadillac is baking the elite nature of the Celestiq into the production as well — each EV will be "personally commissioned" with a unique configuration, allowing buyers to work with a dealer and Cadillac's designers to create their special EV.
Cadillac cements this EV's luxury status with an equally luxurious price tag. To nab your own Celestiq you'll need a starter home sum of $340,000.
Tesla Model S Plaid ($108,490)
Tesla's Model S Plaid might not be as quick as Lucid's Air Sapphire, but with a 2-second 0-60 mph acceleration, it's still one of the fastest in the business.
The wild part is that despite being about half the price of competitors like Lucid's Air Sapphire, it still boasts comparable specs and range — about 348 miles on a single charge when riding on the standard 21-inch wheels.
Plus, if self-driving is your thing, then Tesla's Autopilot is still one of the most extensive autonomous systems you can buy.
Lexus LM ($160,000+)
Luxury comes in many forms, and as it turns out, a minivan is one of them. Lexus' 2024 LM — which literally stands for Luxury Mover — is easily one of the most over-the-top vans out there.
While there's a lot going on here — a cabin with active noise-cancellation, a Mark Levinson 3D Surround Sound system, and large "airline-style" seats — the highlight is easily a 48-inch widescreen HD monitor in the backseat.
For all intents and purposes, Lexus' LM is a movie theater on wheels — it even has a seven-seat configuration (as opposed to four) if you plan on packing as many people into said theater as possible. Unfortunately, the LM is Europe-only for now.
Prices for the 2024 Lexus LM haven't been confirmed worldwide, but an Australian launch will see prices starting at $160,000. I mean, this thing has "luxury" in the name, after all.