Rolls-Royce Spectre Drive: Inside an Epic $420,000 EV
The ultimate EV for big spenders.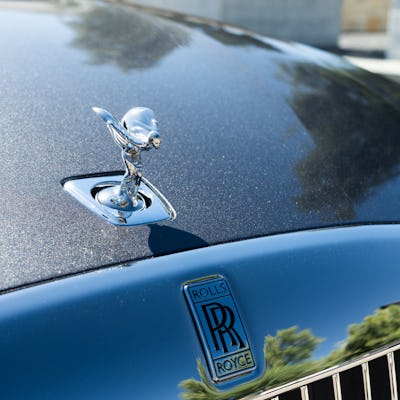 Photograph by Tim Stevens
You know you're doing okay as a brand when your very name is used as a mark of quality. There are plenty of things out there optimistically referred to as "The Rolls-Royce of X," but when it comes to cars, there's only one. Now, when it comes to EVs, there's only one of those, too: the Rolls-Royce Spectre.
While some mainstream manufacturers like Toyota and Dodge are still struggling to get their heads around consumer demand for fully electric cars, 119-year-old Rolls is diving in with both feet, creating an EV that is wholly new and radically different than anything that's come before, yet painstakingly tuned to be immediately familiar.
When it comes to Rolls-Royce, being familiar means being very, very good.
It starts with the look. From a distance, the Spectre seems a little different from any other modern Roller. As you get a little closer, though, you'll notice the body is covered in fine creases and surfaces that help this thing cheat the wind.
Despite that upright, Pantheon-inspired grille, the Spectre has an aerodynamic drag coefficient of just 0.25. That's remarkably good for a car with so many right angles, actually slightly better than the (admittedly taller) Mercedes-Benz EQS SUV, which was so brutalized in the wind tunnel it came out looking hardly recognizable as a Mercedes.
Not so with the Spectre, which does have a few unflattering angles (the hunched back is a bit ungainly from the rear, while the stacked headlights just look a bit odd to me), but on the whole manages to look fresh while staying traditional.
It's the proportions, though, that are really striking, especially given this is a two-door. I can tell you that, as big as it looks in photos, the Spectre is even bigger in person: 18 feet long and 6.6 wide to be exact. That gives this coupe a more prodigious footprint even than a Cadillac Escalade. Thankfully, it casts a far more sultry, desirable shadow, and all that room means plenty of space for the 102-kilowatt-hour battery pack that should provide somewhere around 250 miles of range on the EPA testing cycle.
Much of that length is found in the nose, again a nod towards Rolls-Royce tradition and probably the least sensible styling cue here. This is, after all, an electric car, and though it features a whopping 584 horsepower and 664 pound-feet of torque delivered to all four wheels, that power comes from a pair of relatively tiny motors that slot in nicely between the giant, 23-inch wheels.
In other words, there's no need for that long nose. Popping the hood reveals not a gaping frunk nor a bundle of wires. There's nothing under there but a big metal plate embossed with a shiny Rolls-Royce logo. Yes, that feels more than a little wasteful, but then efficiency isn't what this is all about.
Storage space overall is a bit limited, 13.4-cubic-foot trunk offering about as much capacity as a Mercedes-Benz E-Class sedan. The interior is likewise surprisingly compact relative to the exterior dimensions. Getting into the rear seats requires a bit of an awkward shuffle, but once you're back there it's a comfortable cocoon with plenty of room between you and a headliner perforated with fiber-optics to emulate a sparkling evening sky.
It's cozy back there for sure, but the best seats are the two up front. Up there you have a better view through the cropped windscreen over that prodigious nose, plus better access to all the finery offered by the interior. Like other Rolls-Royce cars, Spectre materials are on another level compared to your average luxury car.
Every piece of wood is mounted with the grain aligned just so. Every stitch falls perfectly into line with all those sewn into place before. Every control surface made of metal is polished to a perfect luster. The circular vents are a particular treat, the push/pull mechanism that closes and opens them moving with a delicate weight.
It's impossible to not spend a few minutes reaching out and touching everything. Your fingerprints will soon be all over the place, making this a particularly bad place to do a murder in. Also, it'd be an awful shame to get blood on that deep-pile carpet.
When you're done fondling and ready to drive, you annoyingly have to press a button to turn the Spectre on. This seems like an unnecessary formality on an EV, since the car knows damned well that your ass is in the driver's seat, but once powered up and slotted into D there's very little else to worry about. While there is a touchscreen and an old-school, BMW i-Drive style rotary controller that can be used for configuring vehicle options, the Spectre was really meant to be left alone.
There are no drive modes to toggle through here, no manual suspension settings or the like. In fact, other than the seat controls, the only concession to driver preference is a button labeled "B" that boosts the regenerative braking. This is, without a doubt, the most finely tuned one-pedal mode I have ever experienced in an EV, offering enough braking to bring the car to a stop in a reasonable amount of time while doing so in a calm, easy way.
Rolls engineers spent 1.5 million miles of testing to perfect this thing, and it is mighty close to perfection. It starts with an oddly lazy throttle, a polar opposite from the snatchy, twitchy go pedal on something like a Tesla Model S Plaid. The Spectre has plenty of power and acceleration, enough to get up to 60 mph in 4.4 seconds, but you really need to shove that accelerator deep into the aforementioned deep-pile if you want to move that quickly.
This is a car much more about wafting along, so the long throttle and equally lazy brake pedal quickly feel like second nature, enabling seamless, perfect stops of the sort only the finest chauffeurs could manage on a lesser car. The steering likewise has a relaxed feel, as does the suspension, which is more about cosseting than cornering.
It all does conspire to make you feel a bit detached from the road, but not in an undesirable way. The steering actually has good precision to it and the Spectre corners quite nimbly when driven with a bit of aggression, helped by a rear-steering system that, Spanx-like, masks those prodigious dimensions.
Driving aggressively in this thing just feels wrong, though. Better to sit back and coast, enjoy the decadent sound system, and succumb to the guilty feeling of superiority that comes along with motoring in a car that starts at $420,000 but goes way, way up from there. (The cars you see here all had about $100,000 worth of mostly cosmetic enhancements.)
That Spectre sound system helps deliver something that I was sure I'd hate but quickly fell in love with, a fake engine noise so cinematic it must have been created by Christopher Nolan's favorite audio engineer. When enabled, accelerating hard in the Spectre generates a tone that I can only describe as sounding like a bumblebee trapped in a reverb factory. It swells louder the harder you go, a subtle accompaniment to the unrelenting torque that pulls you back into those plush seats.
When disabled, there's virtually no noise inside the cabin at all. I've driven a lot of EVs and this is easily the most quiet, so quiet that the whisper of air coming through the cabin vents becomes an unwelcome distraction. I'm hoping that Rolls' engineers find a way to hush that in future EVs.
As you accelerate, details like speed and range are communicated to you via a heads-up display and a digital gauge cluster that's been designed with a lovely style, a little dose of art deco amidst all the numbers.
Outside of the the other-worldly sound effects and the near-perfect silence, everything else I've described here is very much like every other Rolls-Royce in production today. In fact, this interior is more or less lifted wholesale from other modern Rollers like the Ghost
On first blush, that familiarity is a bit disappointing. It's hard to not want this 119-year-old company to do something radically different and fresh. But then, Rolls-Royce customers, people who can actually afford to spend half a million dollars on a car like this, have come to expect a certain character and poise from their machines. Heritage and legacy matter, and the Spectre upholds that.
The Spirit of Ecstacy, that iconic figure hunched over the nose of every Rolls-Royce, was a sculpture commissioned in 1910 to embody "the spirit of the Rolls-Royce, namely, speed with silence, absence of vibration, the mysterious harnessing of great energy and a beautiful living organism of superb grace."
It's hard to imagine any other car on the road today better typifying that ideal. With Rolls-Royce pledging to make each and every one of its cars electric by 2030, it looks like we're all going to have to start working up some new superlatives.