5 Exciting EVs We Can't Wait to Drive
Upcoming entries from Tesla, Lucid, and Mercedes-Benz are sure to make this year an exciting one for electric cars.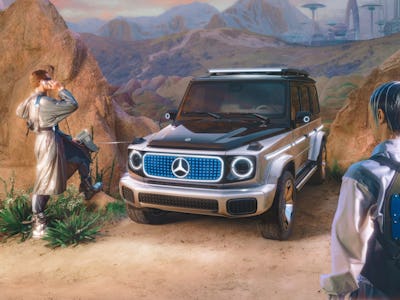 Mercedes-Benz
While there are more and better EVs on the road today than ever before, excellent choices like the Hyundai Ioniq 6 and Audi Q8 E-Tron, it's still hard to pull the trigger on any of them knowing that so many tempting options are waiting just a little farther down the road.
The next spate of EVs, most hitting dealership lots over the next year or so, will offer more range, more performance, and some crazy new features that I cannot wait to experience myself.
What sorts of features? Let's take a closer look.
Mercedes-Benz EQG
Anticipated release: 2024
Anticipated price: $150,000+
If you're a Mercedes fan, you know that G stands for Geländewagen. The iconic Mercedes-Benz G-Class has been conquering all terrain in all parts of the globe for more than 40 years. Initially positioned as a rugged, utilitarian off-roader, the G has since evolved into an oddly posh proposition, with the epic AMG G 63 sitting proudly at the top of the heap.
You're more likely to see a modern G-Class parked on Rodeo Drive than rock crawling up the Rubicon trail, but that doesn't mean the G got soft. It's still as capable as ever and, for its next evolution, it's going emissions-free.
Mercedes-Benz has already shown and talked quite a bit about what will be called the EQG, moving the Geländewagen into Mercedes' EQ branding for EVs. The Concept EQG carries over much the same look and feel as the current G-Class, which is to say big and square, but with a lot more flash, like the illuminated crease that runs fully around the car and the square spare tire holder at the rear, which is actually a storage compartment for the charging cable.
The EQG interior, on the other hand, looks little changed from today's production Mercedes-Benzes, which is to say clean and inviting.
The best parts, though, are under the skin. That the EQG will offer four-wheel-drive is a given, what's interesting is that it will do so with a quad-motor setup. One motor per wheel should make the EQG absolutely unstoppable off-road. No more worries about locking differentials or low-range transfer cases, just point it and go. Need to make a tight turn? The EQG can even do a so-called tank turn, spinning on its own axis.
And, being electric, you can play all you like without feeling guilty about the measly 14 miles the Mercedes-AMG G 63 can cover on a gallon of gasoline.
Mercedes-Benz hasn't given formal dates or pricing on the EQG yet, but expect to see it next year for somewhere around $150,000.
Lucid Gravity
Anticipated release: 2024
Anticipated price: $140,000
The Lucid Air is one of the most remarkable cars on the road today. Offering a rare combination of near-faultless handling when driven hard and transcendent ride quality when cruising, it really is among the best-driving luxury sedans on the planet.
But there's a problem: Nobody wants sedans anymore. SUVs are where it's at, and Lucid is sorely lacking in that department. There's a fix coming, and it's called Gravity.
Of the five cars here, the Gravity is probably the one that we know the least about right now. Lucid has only given us teaser images to go by and scant few details. But, it's a safe assumption that the Gravity will inherit much of the Air's basic framework, which means dual motors in various configurations offering more than 1,200 horsepower and somewhere north of kilowatt-hours worth of batteries. Here, though, all that will be driving a three-row SUV with seating for seven adults.
Though the humble four-door is on the decline, one thing that sedans have over SUVs is aerodynamics. Expect the Gravity to lose a little range over the Air, but top models should still do over 400 miles on a charge. In fact, Lucid is already promising the Gravity will offer "greater electric range than any SUV on the market today." If Lucid can also deliver the same ride quality and a semblance of the engaging handling of the smaller Air in this bigger, taller package, it should be a success.
Lucid has said to expect the Gravity in 2024. Pricing has not been set, but expect it to demand a premium over a comparable Air sedan.
Dodge Charger Daytona SRT
Anticipated release: 2024
Anticipated price: TBD
Are you ready for the loudest EV ever? That's what Dodge is promising with the Charger Daytona SRT — 126 decibels loud to be exact, a volume level capable of producing instant and permanent hearing loss according to the CDC.
This, then, is Dodge's vision for "the future of electric muscle." No, I'm not talking about one of those electro-stimulation machines, like the one that Bruce Lee used to get shredded while typing. This is good ol 'Merican, 1960s muscle with flared fenders and mean contours.
Now, despite stating exactly how loud it is, Dodge didn't actually share any details on key factors like horsepower, torque, or indeed range. However, we know the car will be built on an 800-volt architecture, which should mean it'll charge faster than most EVs. It can also discharge faster, which could be key for those who live their lives in quarter-mile increments.
The dependence on a fake engine noise is a bit silly, but you can't blame Dodge for wanting to hold on to as much of the thrill of internal combustion as possible. After all, Dodge's most notable cars of the past decade, like the Hellcat and the Demon, have first and foremost been about big power and big noise.
The Charger Daytona SRT looks epic, and though that engine sound is entirely artificial, it does get the juices flowing. Expect to see a production version in 2024, but pricing is anyone's guess at this point.
Chevrolet Equinox EV
Anticipated release: 2024
Anticipated price: $30,000
I realize that the Equinox looks like an odd addition to a list full of electric muscle cars and luxury SUVs but, of all the vehicles here, the Equinox might just be the most significant.
Why? Because it'll be cheap.
Chevrolet has promised that the Equinox will be released with a starting price of "around" $30,000. That could make it among the most affordable, compromise-free EVs on the road. Those buyers willing to spend a little more, meanwhile, can get up to 290 horsepower, all-wheel-drive, and 300 miles of range.
It's all in a package that I think looks genuinely good, far more visually compelling than the now-discontinued Bolt EUV, which had price and practicality going for it but not much in the visual department.
If the Equinox delivers on all those promises it's going to be a massive success and exactly the kind of car that truly brings electrification to the mainstream — assuming, of course, that Chevrolet reverses course on its unfortunate decision to nix Apple CarPlay and Android Auto on future vehicles.
Tesla Cybertruck
Anticipated release: ???
Anticipated price: ???
Last but not least is the vehicle that I've been waiting for the longest. I was there at Elon Musk's bombastic, cyberpunk-themed launch event in 2019, when the initial concept for the Cybertruck cruised up on stage to the general bemusement of the crowd, and when Musk promised the thing would enter production in 2021.
We're nearly two years past that now and yet we still don't have a formal release date for the Cybertruck. In fact, we're so far beyond that release date I can't imagine Tesla can possibly honor the original price of the Cybertruck, which was meant to start at $39,900.
At that Cybertruck launch, Musk promised a lot of things, like greater than 300 miles of range, an electric ATV that stores in the bed, and bulletproof glass. There were also numerous comparisons made to the Ford F-150 at the time, bars that Ford itself has since raised with the release of the Lightning EV — which, by the way, was unveiled in May of 2021, a year and a half after the Cybertruck. Ford has already sold over 5,000 of the things this year alone.
Musk has since dropped a few nuggets of information about the truck, including updating the air suspension to "kick butt at Baja." A few images of the interior have snuck out online too, an interior that is about as underwhelming as it gets. None of this will be encouraging for those who put down a $100 deposit nearly four years ago.
I want to believe that the Cybertruck is coming soon and that it will be great, but frankly with all the delays around the Tesla Roadster and Semi, there isn't much reason for optimism.