The Cheapest Cadillac Celestiq EV You Can Buy Starts at $340,000
That's before any fees or dealership markups.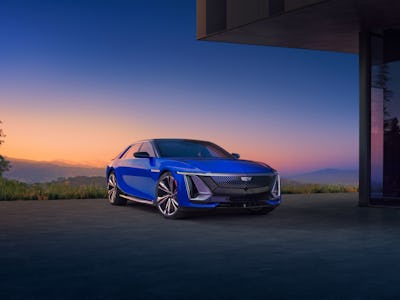 Cadillac
You'll be able to start building your custom Cadillac Celestiq soon, that is, if you can afford the starting $340,000 price tag. Cadillac finally revealed pricing for its ultra-luxury electric sedan, the Celestiq, through a LinkedIn post from Melissa Grady Dias, Cadillac's chief marketing officer.
As high as that starting price is, Cadillac already hit us with sticker shock when it previously said the Celestiq would cost more than $300,000 when it was announced in November 2022. With prices like that, the Celestiq is expected to go up against other ultra-luxury EVs like the Rolls-Royce Spectre that's even more expensive at $420,000, or the more approachable Lucid Air Sapphire at $250,000.
CUSTOM CADILLACS
Cadillac says each Celestiq will be "personally commissioned" with a bespoke configuration that lets you fully personalize your wildly expensive EV. The process means you get to work with a dealer and Cadillac's designers to create your unique model of the Celestiq.
Cadillac is using GM's Ultium platform for the Celestiq, which has enough room for a 111 kWh battery pack and a two-motor all-wheel-drive system. The Celestiq will get an estimated 600 horsepower and 640 lb-ft of torque, so it can from 0 to 60 mph in 3.8 seconds. Even with that much power, the Celestiq will still get an estimated range of 300 miles, thanks to the lowest-ever drag coefficient that Cadillac has achieved.
Inside, the Celestiq will have an ultra-wide 55-inch LED display and a smart glass roof that removes the need for a roof liner or sunshade. Cadillac will also debut GM's Ultra Cruise technology that lets you do hands-free driving in 95 percent of all driving scenarios, according to GM.
LIMITED AVAILABILITY
Unsurprisingly, Cadillac's Global Vice President Rory Harvey said the automaker is planning on making an "extremely low volume of hand-built vehicles" each year for its Celestiq — this is for the ultra-rich only.
Cadillac says it will send out emails to customers to start designing their bespoke Celestiq, but there's no exact timeframe for when deliveries start; production, however, will start in December.