Cadillac's Smaller SUV Could Be Its Most Affordable EV Yet
The Optiq, which was revealed in leaked regulatory filings, is likely only coming to China for now.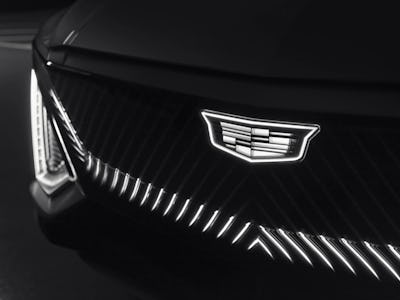 Cadillac
It takes a lot to stay competitive in the EV market overseas. To keep up with other EV makers, Cadillac is planning for a smaller, more affordable SUV to be released in China. Cadillac filed documents to China's Ministry of Industry and Information Technology for its next EV called the Optiq, which was first reported by CnEVPost.
The news of the Optiq comes at a time when American EV makers are fighting to keep up with the price cuts from competitive Chinese EV brands like BYD and Nio. The ongoing price wars in China have led to Cadillac cutting the starting price of the Lyriq by nearly 14 percent last week. Cadillac even offered around another $2,500 off if you put a deposit on a Lyriq in China before the end of August.
A SMALLER SUV
As for the Optiq, Cadillac is planning on making its smaller SUV in two trims, one with a max output of 150 kW and another with 180 kW, according to documents filed in China. Compared to the Lyriq that's currently on sale in the U.S. and China, the Optiq will be slightly smaller.
According to the report, the Optiq's batteries will be made by a joint venture between SAIC — which GM has a joint venture with in China — and CATL, a Chinese battery maker. Cadillac will be building the Optiq in SAIC-GM's factory in Wuhan, the report also noted.
COMING TO CHINA FIRST
Considering the smaller size of the Optiq and the recent price cuts to the Lyriq, we're expecting Cadillac to price its upcoming SUV competitively. Though officially, Cadillac hasn't revealed any details regarding price, specs, or release yet.
Cadillac also hasn't mentioned if it will bring the Optiq to the U.S. to fill out its EV portfolio which currently includes the Lyriq and the Celestiq. The automaker also just announced its electrified Escalade, which will be revealed in August. Compared to its larger models, the Optiq is likely to lean towards the more approachable EV with a potentially more affordable price and suitable form factor.