This Electric Station Wagon is the Affordable Family Car We Need
Too bad it's not coming to America.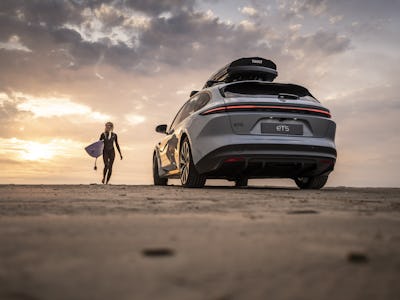 Nio
SUVs and minivans may be the obvious options when it comes to buying a family car, but you can't count out the humble station wagon. Unfortunately, there haven't been many all-electric station wagon options to choose from in America, and this time it's no different.
Nio released its electric station wagon called the ET5 Touring, which is a variation on its existing ET5 mid-size sedan. The Touring model makes for an even more capable family car since it has far more rear space, but it should be noted that it won't be coming to America anytime soon.
EXTRA STORAGE SPACE
The ET5 Touring measures 4,790 mm long, or around 188 inches, making it a longer version of Nio's ET5 sedan. As with most station wagons, the ET5 Touring has more space in the back row, particularly with headroom space. All the seats can independently fold down so you can configure the back seats depending on the situation. In total, you'll get around 1,300 liters of space or around 45 cubic feet, but there are a bunch of storage spaces and ways to expand storage.
Inside, Nio designed an infotainment center that comes with an option for AR glasses. Paired up, you can get a 201-inch screen from six meters away, but it will more likely serve as a distraction for backseat passengers during long drives. The ET5 Touring's interior features a surround sound system and a range of ambient lighting colors. Above the passengers, the station wagon has a one-piece panoramic glass sunroof that has intelligent dimming and UV ray protection.
Despite being a family car, the ET5 Touring still has some impressive specs with a 0 to 62 mph in around four seconds thanks to its dual-motor all-wheel drive system. The station wagon has a 50:50 weight distribution and a suspension system designed for improved stability. In terms of safety, the ET5 Touring was built with 33 sensors and a LiDAR camera, along with several driver assistance features.
SWAPPABLE BATTERIES
Customers will get three options when it comes to the ET5 Touring: a model with a 75 kWh battery, another with a 100 kWH battery, and one without a traditional battery. The smallest battery will get a WLTP-estimated range of 270 miles and will start at around $41,800. The larger battery model gets up to 347 miles according to WLTP estimates and starts at around $50,000.
Nio is also offering its Battery as a Service feature for the ET5 Touring that slashes the price down to around $32,000. This option forgoes the traditional EV battery in place for a subscription fee that lets you use Nio's swappable batteries which are much faster than recharging at a public station.
COMING TO CHINA FIRST
With Nio's headquarters being in Shanghai, it's obvious that the ET5 Touring will release in China first. The station wagon is already available for test drives and orders in China, with deliveries expected to start now. Nio is offering the ET5 Touring in 10 exterior colors and six interior color options. Afterward, Nio is planning to make the station wagon available in European markets, with deliveries to start in the fourth quarter of 2023. Again, no sign of it coming to the U.S. yet.
Unfortunately, station wagon stans really need something like the ET5 Touring to deliver stateside. On the market right now, U.S. consumers only have two options from Porsche, the Taycan 4 Cross Turismo and the Taycan GTS Sport Turismo, both of which command expensive price tags. That means there's still a huge gap in the American market for those in search of an all-electric station wagon. Not counting Nio, there's still hope since both BMW and Volkswagen are reportedly working on their own models.