Porsche's Hypercar EV Concept Is Gunning for Road-Legal Speed Records
Porsche didn't reveal any specs, but we aren't doubting the claims.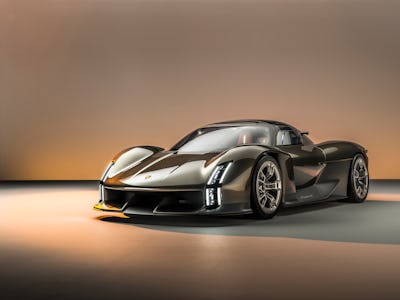 Porsche
Porsche clearly doesn't want to sit back and let Tesla take the claim of the fastest road-legal car around the famous German benchmark, the Nürburgring. Porsche unveiled its Mission X hypercar EV concept that almost feels like it was custom-built to take the claim.
For Porsche, the Mission X would be its fastest road-legal vehicle around the Nürburgring's Nordschleife, which most hypercars are measured against. That spot is currently occupied by Tesla's Model S Plaid, which with the recently-introduced Track Pack secured a time of seven minutes and 25 seconds. Tesla just beat out Porsche's previous record-holder, the Taycan Turbo S which had a lap time of seven minutes and 33 seconds.
The one-upmanship is turning into an entertaining rivalry that is producing some record-pushing electric hypercars. Not just looking at performance, the Mission X features a design that's more akin to racecars and Le Mans-style doors that open up and towards the front, unlike gullwing doors that go up and straight to the side.
LIGHTWEIGHT, AERODYNAMIC DESIGN
Porsche didn't reveal any specs that back up its claim, but it did tease out details of its overall design. The Mission X will measure about 14.7 feet long, six feet wide, and roughly four feet high. The hypercar EV will have a wheelbase of about nine meters, similar to the dimensions of Porsche's Carrera GT or its 918 Spyder. Porsche went with mixed sizing for its tires, with 20-inch wheels in the front and 21-inch wheels in the back, for better aerodynamics.
It's clear that Mission X's many components were designed with performance in mind. The rear axle has nearly transparent aero blades for improved cooling of the brakes and there's a lightweight glass dome that surrounds the driver and passenger. The rest of the Mission X is covered in a carbon fiber exoskeleton that gives it its lightweight design.
The compact and lightweight styling of the Mission X means a power-to-weight ratio of one horsepower for every 2.2 lbs with downforce values beyond Porsche's existing 911 GT3 RS. Porsche even upgraded its fast-charging capabilities by introducing a 900V system architecture that can charge about twice as fast as its current fastest-charging EV, the Taycan Turbo S.
Inside, the seats are equipped with six-point seatbelts and an integrated LED light strip. The driver gets an open-top steering wheel to get a full view of the curved display. Porsche included a stopwatch module that you can attach to the passenger's side of the dashboard and several onboard cameras that you can activate on the multipurpose controller.
PRODUCTION-READY?
It's important to note that Porsche said "if the Mission X goes into series production," in its press release. If Porches does make the Mission X into a production vehicle, we can expect it to be a fairly limited run and one that will be excessively expensive.
Still, Porsche is adamant about not letting the competition have all the fun on the Nürburgring. That's not just limited to Tesla since Lamborghini has plans to put out its hybrid supercar, the Revuelto, and Rimac just smashed a ton of records with its road-legal Nivera. Porsche still feels like its Mission X has something to contribute to the ongoing race for the fastest time on Nürburgring, that's if Porsche decides to eventually bring it to market.