Porsche's Next Electric SUV Could Be an Off-Road Beast
The SUV codenamed K1 is due to come out sometime in 2027.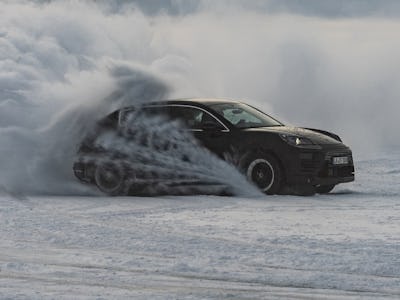 Porsche
Porsche may be known for its legacy of two-seater sports cars, but it's been more focused on paving its way toward becoming a serious luxury EV brand. Porsche's latest step in that electrified future comes in the form of a higher-end fully electric SUV. This EV is only known by its internal codename so far, the K1, which was first reported by Autocar.
So far, we know that the K1 will be a seven-seater luxury SUV that will be capable of off-roading. From the info teased by Autocar, it looks like Porsche is targeting the demographic that would otherwise go for something like the Lamborghini Urus or Ferrari Purosangue. As compared to Porsche's existing models, we're expecting the K1 to be a souped-up version of Porsche's Cayenne or Macan models.
Sporty crossover — According to Autocar's sources, the K1 will be "part saloon, part crossover" and the CEO Oliver Blume equates it to a sportier version of an SUV. Unfortunately, there were no images so we don't know what the K1 will look like just yet. The Autocar report did reveal some hints at the design, including a length of more than 16 feet, a unique silhouette, a short hood, an aggressively-angled windshield, and a curved roof that extends into a liftback-style tailgate.
The K1 is expected to be four-wheel drive and will be built using Premium Platform Electric, which Audi is also using. The Macan EV will use this platform as well, but Autocar says that the K1 will likely be built on an upgraded version of the PPE by the time the SUV is released. The report also notes a 920V system, a range of 435 miles, and the added feature of four-wheel steering that gives up to five degrees of turning for the rear wheels.
Start saving now — According to the Autocar report, Porsche is already three years into the conception and planning of the K1, which is expected to release sometime in 2027. Per Autocar's sources, the high-end SUV is going to cost more than the starting price tag of more than $180,000. Porsche is no stranger to expensive cars, but the K1's high price means it'll be reserved for those chasing the most expensive luxury SUV their money can buy.
If the K1 doesn't fit your budget, Porsche is still working on electrifying the rest of its vehicles, including an EV version of its Macan, Boxster, Cayman, and Cayenne. The Macan will be the first to hit the market sometime this year, while the EV versions of the Boxster and Cayman are due to debut in 2025, and the Cayenne in 2026.