Lucid's Air Sapphire EV Is Terrifying Quick
Lucid is justifying its EV's eye-watering price tag with acceleration that tops Tesla's Model S Plaid.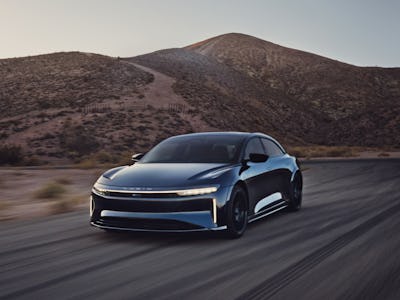 Lucid
EVs are known for their near-instant acceleration, but Lucid's upcoming Air variant is going to take that well-known advantage to the next level.
According to Lucid, the Air Sapphire — a luxurious performance car from the EV upstart — will boast a rocket-like 0 to 60 mph in 1.89 seconds. For reference, that tops Tesla's blindingly quick Model S Plaid which can reach the same clip in 2 seconds.
Enabling the Air Sapphire's impressive acceleration is a total of three motors that equate to an equally impressive 1,234 horsepower. Not that you'd ever really need to find out, but that also equates to a 0 to 100 mph in 3.84 seconds and a max speed of 205 mph.
Surprisingly, the Air Sapphire balances all of that power with a formidable range. According to an EPA estimate, the super-fast EV will get about 427 miles on a single charge. That's slightly more than the Model S Plaid, which offers about 405 on a full charge.
Lucid Luxury
Yes, it's wild that Lucid's Air Sapphire beats out Tesla's Model S Plaid, which at the time of its release was arguably one of the most impressive production cars out there. But it's worth noting that Lucid is also charging quite a premium for those perks.
The MSRP of the Air Sapphire is $249,000, which is more than double the price of Tesla's Model S Plaid. For that cost, you'll get some nifty features like a very fast 900V charging architecture, carbon ceramic brakes, and four different drive modes — Smooth, Swift, Sapphire, and Track.
Sure, that all seems like overkill, but... Yeah, no, it's all overkill, but that's exactly what you want in a high-performance EV that costs a quarter of a million dollars. If you're one of the several dozen people in the world that can feasibly justify buying an EV like this you'll be glad to know that the Air Sapphire starts production in September. Lucid says deliveries will follow "soon after."