The 12 Best Transparent Gadgets For Capturing '90s Nostalgia
Bring the '90s back in a big way with these transparent gaming handhelds, earbuds, and chargers.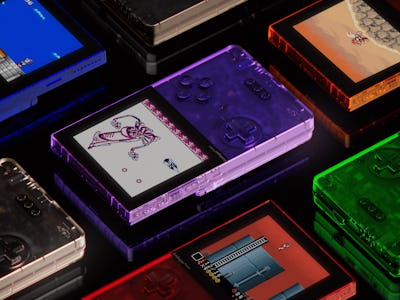 Analogue
We may receive a portion of sales if you purchase a product through a link in this article.
It's undeniable — transparent gadgets are back. And it's easy to see why. I mean, honestly, what's more powerful than the memory of your first Atomic Purple Game Boy?
If you're itching to relive the golden era of '90s tech it's easier than ever. Gadget makers across the spectrum — we're talking earbuds, chargers, handhelds and more — are pushing out their own modern takes on see-through tech every day.
So, where to begin? Well, that's where we come in. These are the 12 best transparent gadgets that have us ready to open up our wallets for a much-needed dose of nostalgia.
TRANSPARENT STEAM DECK OLED
The Steam Deck revolutionized handheld gaming and the recently-announced OLED refresh should continue that trend. Valve is already moving the hype train along with the limited-edition transparent model for the upcoming OLED version. Try as you might, but you can't deny how sleek those orange accents look peeking out from the transparent shell.
AYN ODIN 2
Ayn is building on its affordable gaming handheld lineup with the Odin 2 that runs on Android. It's nearly half the price of the Steam Deck above, but it still manages to squeeze in Hall effect joysticks, a six-inch 1080p display, and decent battery life.
HYPERX CLUTCH GLADIATE RGB
HyperX's latest wired controller made for Xbox marries transparent design with RGB lighting. On top of a completely see-through shell, the Clutch Gladiate RGB has six panels of customizable lighting with three patterns and seven colors.
NOTHING PHONE 2
Nothing played a big role in sparking the wave of transparent design with its earbuds, and now it's turned to the smartphone with a similar take. The tech company's first model, the Phone 1, paved the way for the more recent Phone 2, improving on its Glyph interface that's highlighted thanks to the transparent back.
NOTHING EAR 2
Even before Nothing;'s Phone 1, there was first the Ear 1. Now we have a follow-up with the Ear 2 that manages to stick to the same design formula but improve on key elements like battery life and audio quality. If you're bored of AirPods, these are the earbuds for you.
BEATS STUDIO BUDS +
These Beats wireless earbuds may fall more on the translucent side of the spectrum, but the frosted white look is still scratches the same itch. Besides that, the Studio Buds + offer 36 hours of listening time thanks to the charging case and three large mics for clear audio during calls.
RAY-BAN META HEADLINER
To attract some more attention for its second-gen smart glasses, Ray-Ban went with some more experimental colorways for both its Meta Headliner and Meta Wayfarer models. Both smart glasses come with open-air speakers and an ultra-wide 12-megapixel camera. You'll pay a little extra for the updated Meta Wayfarers, but there are caramel or denim blue options for both.
TRANSPARENT SPEAKER
This compact speaker is as much of a design piece to show off in your apartment as it is an actual audio device. The minimalist design gives you a full look at the speaker system with its bare drivers and wires, which can fill a 430-square-foot space with stellar audio quality.
SHARGE SHARGEEK 100
Transparent design works for those sleek devices above but more practical accessories deserve a retro-futuristic makeover, too. Sharge wants in on the see-through action and made a power bank with a 25,600 mAh capacity that can charge whatever device you need.
CASEMATE FUEL 30W TRANSLUCENT WALL CHARGERS
Casemate is taking direct inspiration from those neon-colored iMacs that still live on in our memories. These wall chargers are three times faster than the stock ones that come with your iPhone and have foldable prongs for a more portable design.
Dockcase Smart USB-C Hub 10-in-1 Explorer Edition
Every workstation should have a USB-C hub considering the lack of necessary ports on laptops these days. Instead of a boring silver hunk of metal, Dockcase's USB-C shows you where all your connecting ports lead for a little added spice to a common accessory.
FLIPPER ZERO TRANSPARENT
We saved the funkiest for last. Flipper Zero's limited-edition version adds that perfect extra touch to an already great gadget. This multi-tool combines the usefulness of a universal remote with the personality of a Tamagotchi — and a see-through shell to boot.