Analogue's Transparent Pocket Game Boys Throw It Back to the '90s Hard
All seven of these colors will definitely sell out instantly.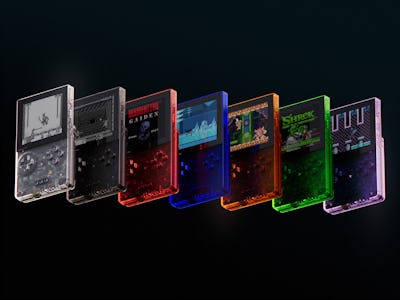 Analogue
What did I tell you? Last month, when Analogue announced a glow-in-the-dark version of its popular Game Boy-compatible Pocket handheld, I said the company should do a translucent Atomic Purple model and now it's doing just that… sort of.
The boutique game system maker has announced a limited edition "Transparent Pockets" today in seven see-through colors: Transparent Clear, Transparent Smoke (black), Transparent Red, Transparent Blue, Transparent Orange, Transparent Green, and Transparent Purple.
Just like the Nintendo Game Boy Pocket and Color of yesteryear, the cases on the Transparent Pockets show off the underlying circuitry. I don't need to see these in person to express how awesome transparent design is — I love it.
Honestly, these are even better than the glow-in-the-dark Pocket in my opinion. Sure, there are myriad ways to mod an original Game Boy Pocket or Color with a color IPS display, rechargeable battery, and USB-C, but you won't get the same high-res 3.5-inch LCD that the Pocket has. Nor will you get the ability to play original Game Gear, Atari Lynx, Neo Geo Pocket, and Neo Geo Pocket Color cartridges using an adapter (sold separately). The Pocket's openFPGA technology also means the handheld is open to infinite possibilities from tinkerers, indie developers, or video game preservationists.
As with the glow-in-the-dark Pocket, Analogue is charging a small premium. The units will go for $249 (again, $30 more than the regular black or white models) when they go on sale on September 29 at 11 a.m. ET / 8 a.m. PDT.
Expect the Transparent Analogue Pockets to sell out instantly. The glow-in-the-dark model was sold out in seconds. Anyone who so much as hesitated or didn't have their payment and shipping information pre-filled with autofill was left in tears. Don't believe me? You can peruse r/AnaloguePocket for yourself to read countless stories. If you're planning to snag one of these sleek Pockets for yourself, make sure you're prepared. Available in "highly limited quantities," according to Analogue, the company also tells Inverse: "They will never be sold again." Good luck on September 29, everyone!