Valve's New Steam Deck OLED Has a Bigger and Brighter Display, and up to 50% Longer Battery
There's also a sweet limited edition transparent model.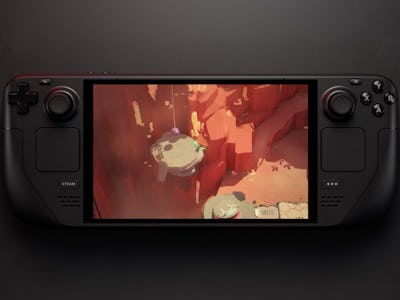 Humane's Ai Pin isn't the only thing you'll be able to order next week on November 16. Valve's new Steam Deck OLED also goes on sale the same date starting at 1 p.m. ET / 10 a.m. PT.
As the name suggests, the big new feature for the new Steam Deck is slightly larger 7.4-inch OLED display (up from the 7-inch screen on the LCD model). As you probably already know, the OLED means deeper blacks and HDR allows for a wider range of colors. The resolution is the same 1,280 x 800, but the screen also supports HDR, something the LCD one doesn't.
Battery life is also improved on the Steam Deck OLED thanks to a larger 50Whr battery (LCD model has a 40Whr battery). Valve says the new handheld will last between 3–12 hours compared to the 2–8 hours of the LCD version.
Other new notable features on the Steam Deck OLED: a 5 percent weight reduction, a larger fan for better thermals, 512GB of NVMe SSD storage (1TB is also available), Wi-Fi 6E (Valve claims up to 3x faster downloads), and a slightly longer 2.5 meter cable. The 1TB Steam Deck OLED has two things you may or may not care for: an "exclusive startup movie" and "exclusive virtual keyboard theme."
If all of that sounds appealing to you (and it does to me), you can order one next week starting at $549 for the 512GB model and $649 for the 1TB version.
Limited Edition Transparent Steam Deck OLED
Black is fine, but transparent — good lord, I cannot resist a transparent gadget. Also available on November 16, a Steam Deck OLED with a transparent case. This see-through version has red accents all throughout and 1TB of storage. Valve says it'll be available in "highly limited" quantites and only in the U.S. and Canada. Expect these to fetch top dollar on the second-hand market.
Steam Deck OLED Accessories Compatibility and Replacement parts
Have a Steam Deck with LCD and accessories for it? Don't throw those goodies out! According to Valve's FAQ, the Steam Deck OLED works with all accessories made for the LCD version and the company is working with iFixit to to selll replacements parts and repair guides. Hurray for DIY repairs!
LCD Steam Deck Phasing Out
The future of the Steam Deck is OLED and as Valve is clearing out existing stock until they're all gone. $349 will get you a 64GB Steam Deck LCD, $399 for the 256GB, and $449 for the 512GB. Valve has also dropped the price on the Steam Deck Docking Station, now at $79.