Humane Finally Reveals Everything About Its $699 Phone-Killing Ai Pin
Here's a detailed look at how the Ai Pin works.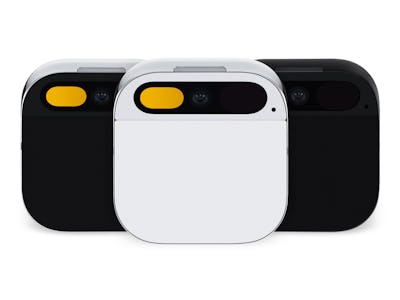 Humane
Humane's hype train has reached its final stop. After lots of teasers and vague marketing ops, Humane finally debuted its Ai Pin (pronounced like you would say AI and not "eye"), a clothing-based wearable device that is definitely, undoubtedly, for sure, not a smartphone.
Let's dig in.
Humane Ai Pin price and release date
First thing's first: the Ai Pin costs $699. Yes, that's a lot of money, but Humane is clearly positioning this as a smartphone replacement and not as something you'd use in addition to a glass slab.
If that price makes you wince, well, brace yourself because you'll have to pay a monthly subscription fee on top of that if you want to be on the cutting edge. To use the Ai Pin on the go, you'll have to spend $24 per month for a phone number and service through T-Mobile. Humane says that the subscription price also includes cloud storage and "full access to Humane's "growing suite of Ai-powered services."
The Ai Pin will start in three color options — Equinox, Eclipse, and Lunar aka black, blacker, and white — and comes as a two-piece device that consists of the device itself and a battery booster that's connected magnetically and works wirelessly through clothing. The detachable battery means you can swap batteries on the fly.
Altogether, buying the Ai Pin will also get you two battery boosters, a charging pad, a charging case, and (Apple be damned) a braided USB-C cable and a charging adapter.
Believe it or not, preorders are right around the corner, too. Humane says they'll start on November 16 and the first devices will start shipping in early 2024. But what exactly are you preordering, you ask?
Humane Ai Pin Features
As you may have guessed from the name of the device, the Ai Pin centers on, well, AI.
It's meant to be pinned to your shirt magnetically and heavily relies on a voice assistant to do most of what you can do on your smartphone — play music (through a partnership with Tidal), translate, answer web queries, dictate or summarize your email, all with the help of Humane's own operating system called Cosmos.
Humane made a video showing off various use cases of the Ai Pin in action. See for yourself:
The "Ai Mic" can also apparently draft up voice messages that mimic the tone of your voice, which depending on your level of comfort with AI in general may either be very cool or very creepy. Sound-wise, Humane says the Ai Pin has a "Personic Speaker" that creates a "bubble of sound" around users for greater privacy. We'll be the judge of how private that sound actually is once we get our hands-on one. You'll also be able to connect a pair of Bluetooth earbuds or headphones to the Ai Pin if you really don't want anyone hearing the AI voice assistant's responses.
There's also an "AI-powered photographer" according to Humane which lets you "capture and recall" memories.
One thing that Humane's device definitely does not have, however, is a screen. That's where the holographic display (potentially the Ai Pin's most futuristic feature) comes in. With what's being billed as a "Laser Ink Display" you're able to project a small display onto your palm and then use gestures to interact with the Ai Pin for things like playing or pausing music. In Humane's video, you can see a user tap their thumb and index finger together to select "click" things and even rotate their palm to trigger other actions.
If you don't want to shout or project to use your Ai Pin, there's also a touchpad, which to me feels like a bit of a half-measure toward a screen. Here's to hoping that dictating to your Ai Pin is easier than the current crop of smart speakers.
And of course, this wouldn't be a not-smartphone experience without a camera. Human says the Ai Pin uses a depth sensor and motion sensors which allows the device to "see" your environment which is handy for things like multimodal search — think showing your Ai Pin an object and then asking how much it is and where to buy it. When the camera is activated, a "Trust Light" ticks on to let people know you're recording.
It seems Humane has learned at least something from the Google Glass backlash.
Who is this the Ai Pin for?
The idea behind the Ai Pin is pretty simple: screens are bad, and so are smartphones.
If you love social media, the Ai Pin is not the device for you. There will be no doom scrolling through social feeds here and no apps thirsting for your constant attention. "We don't do apps," says Humane co-founder Bethany Bongiorno in the product launch video.
In a lot of ways, I get it. I think the harmful effects of social media and constant notifications are well-documented at this point. Whether people can ween themselves off of apps and the attention economy is another question entirely.