Humane Finally Shows Off What the Ai Pin Looks Like Ahead of November 9 Unveil
The AI-powered clothing-based wearable clips to your jacket or pants.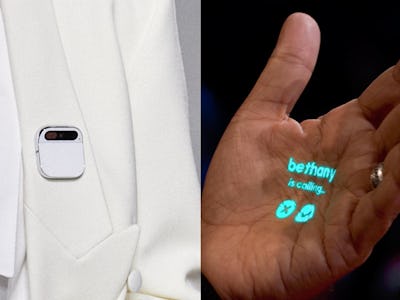 LUCA TOMBOLINI FOR COPERNI, Humane
Mark your calendar for November 9 — the date Humane says it will fully unveil its "intelligent clothing-based wearable" called Ai Pin.
We got our first glimpse of the Ai Pin back in April and last Friday, during Paris Fashion Week, in collaboration with French luxury brand Coperni, Humane had supermodel Naomi Campbell walk down the runway wearing the "screenless, standalone device and software platform built from the ground up for AI."
The device, which was worn by Campbell and other models, was shown clipped to jacket lapels... and a pair of pants (a very strange place to attach a device that is supposed to project phone-like interfaces and information onto surfaces, and speak to you).
In a press release, Humane says: "The collaboration was borne out of a shared belief between Humane and Coperni that design, creativity and technology can be a huge driver and cultural force for change."
Humane repeated other information that we already knew, including the laser-projected display and privacy focus:
The intelligent clothing-based wearable uses a range of sensors that enable natural and intuitive compute interactions and is designed to weave seamlessly into users' day-to-day lives. The device is privacy-first, with aspects such as no wake word and therefore no 'always on' listening, reflecting Humane's vision of building products which place trust at the center.
The Ai Pin, which does not need to be paired with a smartphone or other companion device, includes AI-powered optical recognition and a laser-projected display, all powered by an advanced Snapdragon platform from Qualcomm Technologies
As for the Ai Pin hardware itself, well, here it is:
No, that's not a Dynamic Island, but the backside does remind us of the stainless steel rear of the original iPods. We can also see that the laser projector is angled slightly downward, which should make it easier to project information onto your palm.
Here is Campbell sporting the Ai Pin on the runway:
Here are close-ups of the Ai Pin in white:
And here is the Ai Pin clipped to a pair of trousers:
It really resembles a lifelogging camera. Remember those? In fact, infused with AI, the Ai Pin is like the child of a Narrative Clip 2 lifelogging camera and Google Clips.
Is Humane's Ai Pin a Luxury Device?
The collaboration with Coperni — a luxury designer brand — could be a hint at who the Ai Pin is for and how much it could cost.
Ryan Jones, the founder of the popular flight-tracking app, Flighty, makes an interesting point about Humane's alignment with Coperni. "What does being in a fashion show convey? Elite. Out of touch. Jewelry," Jones posted on X/Twitter.
Humane isn't the first tech company to pair up with the fashion world to debut cutting-edge wearable tech. Over a decade ago, Google paraded its ill-fated Google Glass at New York Fashion Week 2012. And Apple, in 2014, more than six months before its launch, tried to position its Apple Watch more as jewelry than a fitness tracker. Anyone remember the $17,000 18-karat gold Apple Watch Edition?
It's possible that the Ai Pin could be affordable, but also... the company's ranks are made up of a lot of ex-Apple engineers and designers — people who are really into premium industrial design — so we wouldn't be surprised if the price is in the ballpark of a foldable phone.
Humane is being awfully stealthy about how the Ai Pin actually works and what it can really do. All we can do is wait until November 9 to see whether this gadget really can replace smartphones or not.