The 5 Biggest Questions We Have About Humane's Wearable AI Projector
What precisely the mysterious startup is working on has been confirmed, but there's a lot we still don't know.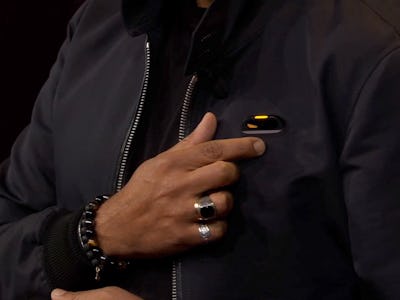 Screenshot via Zarif Ali
The cat is officially out of the bag. Humane, a secretive startup led by former Apple employees, has spent the last few years hiring top talent and sharing cryptic marketing. We now know that's been in service of building a wearable, AI-powered projector, thanks to leaked video that Inverse has seen from an upcoming TED talk given by Humane's co-founder and CEO Imran Chaudhri.
The device is small, with support for voice commands and gestures to interact with its various projections, according to Axios. It also has a camera for computer vision features like detecting objects. Beyond that, from its actual name to much of what Humane is planning the device to be used for, much is still unknown. Inverse has some questions.
5. So Do You Have to Stand Still to Use It?
The biggest thought I had watching Humane's demo is how pinning a wearable to your T-shirt or jacket pocket introduces so much potential movement if you're doing anything other than standing still. Even your arm shaking seems like it could keep the projections from being completely readable.
We did not see Chaudhri move around in the video of the TED talk that Inverse obtained, so possibly this isn't as big of an issue as it seems. But just looking at a mockup of how designer Michael Mofina thinks it could work, it seems like people might want to stick to voice commands.
4. Is Humane's Device a Smartphone Replacement?
At its simplest, it seems like yes. Chaudhri's demo highlighted receiving a phone call from his co-founder and wife, Bethany Bongiorno. The device was able to display who was calling on Chaudhri's hand, with typical phone screen controls like muting and hanging up the call entirely. One assumes that with voice dictation, you could also send and receive messages with the wearable too.
Chaudhri says the device works independently of a smartphone, which suggests it must have a built-in wireless modem and require a cellular plan for all of its functionality to work on the go. When Inverse last looked into Humane, we noted the compan was looking for engineers with Android experience, so it's possible the wearable itself could run Google's mobile operating system. Or at the very least, Humane plans on offering a companion app for managing the device. Without a display, that would make sense.
3. Are There Apps?
Of course, smartphones are more than just phones, and their ability to run other software is critical to what makes them useful. Humane showed off live translation and a food-identifying feature that on another mobile device might be distinct apps, but as of right now, the company hasn't said whether its wearable is a "platform" in a traditional sense.
Both Apple and Google run their smartphones businesses off the cut on sales they get from every transaction on the App Store and Play Store, and Humane could certainly do the same with its device. Obviously, a screenless, primarily audio-driven device isn't going to work for every developer, and Humane might prefer it that way. Engaging and addictive apps are a big reason why smartphones are so hard to put down in the first place.
2. How Much Is This Going To Cost?
If I had to guess, Humane's device will not be an impulse buy, likely because you'll need a wireless plan for it to be completely useful. The AI features the company seems interested in including on the wearable are frequently placed behind a subscription as well. For unfettered access to OpenAI's ChatGPT, for example, a chatbot that can answer questions, and generate and parse text and images, you need to pay $20 per month.
Google offers its AI features like Magic Eraser and Google Assistant on Pixel phones for free, but I'm also not sure it ever plans on making money on smartphone hardware. I'd hope there's a way for Humane's wearable to offer the best of its AI-powered skills with the flat cost of whatever the hardware is, but it does seem increasingly hard not to have a plan for getting recurring revenue as a startup.
1. Is This Solving the Right Problem?
Chaudhri and Humane have seemed to frame the goal of their first product as offering an AI experience that gets screens out of our lives, makes technology invisible, and generally keeps us more present. From the leaked TED Talk demo, in some cases, that's literal; the "screen" of the wearable is only visible when you hold your hand in front of it.
It's an admirable idea. But is hiding screens the same thing as loosening the stranglehold technology has on our lives? How it gets in the way of us just being together? I'm not entirely sure, but we have the next few months to see what else Humane has to say about it, and based on what we've seen so far, it should be pretty interesting.